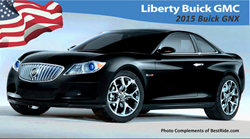 The Buick Regal GNX is the coolest performace car since the 1980's -- Scott McCorkle, Liberty Buick GMC
Charlotte, NC (PRWEB) November 30, 2014
The waiting list for the new Buick Regal GNX began on Black Friday, 2014 at Liberty Buick GMC in South Charlotte NC.
The Buick Regal GNX was first announced in the 1980's and is making a big come-back in 2015!
"Customers have already started calling about test driving one of these new cars, " reports Scott McCorkle, owner of Liberty Buick GMC. "We are adding their names to a waiting list," he adds.
The 1980's were known for some very cool technology. It was the decade the personal computer found its market replacing the IBM Selectric typewriter on office desks. Video games systems like Pac-Man and Golden Axe became an extension to American televisions, and who could forget the Walkman being sported by many during a workout or a walk in the park. But according to muscle car enthusiasts, the coolest of technology came in the form of high-performance cars – the Buick Regal Grand National and its high performance big brother the Regal GNX.
"The Buick Regal Grand National, along with the Chevy Corvette, was about the coolest performance car to be had in the 80's," says McCorkle. "This new model will again compete in the high performance category, but will have a bit of luxury added in for the price."
In 1982, Buick introduced a limited edition Buick Regal Grand National and then in 1987 its high performance big brother the Regal GNX. Named after the Grand National Winston Cup series it participated in, the Grand Regal was only available from 1982-1987. Buick went out with a bang in 1987 producing the Regal GNX model, representing the epitome of performance for the Regal. Only 547 Regal GNX's were ever produced, making it a collector's item for car enthusiasts. A total of 26,000 Buick Regal Grand National cars were produced in the six years of production.
"There are just a few details available now about these new exciting cars," says Scott McCorkle. "We do know that Buick will be offering both models once again - the Regal Grand National and the high-performance Regal GNX sport-luxury coupe. These returning relics will be based on the highly-acclaimed Alpha vehicle architecture currently used in the Cadillac ATS, 2014 Cadillac CTS, and soon to be in the sixth-generation Chevy Camaro. Alpha is the internal name of a General Motors vehicle architecture engineered to underpin compact and mid-size rear-wheel-drive vehicles."
The Regal GN and GNX coupes will join the currently popular Buick luxury sport Regal sedan. Scott McCorkle expects to have these new high performance Regals in his showroom floor in late 2015.
The Scott McCorkle Family of Dealerships now includes Liberty Buick GMC,Mount Airy Toyota Scion, and Mount Airy Chrysler Dodge Jeep Ram. For more information on any Buick GMC model, stop in to visit or take a test drive at 9028 East Independence Blvd. in Charlotte and Matthews.