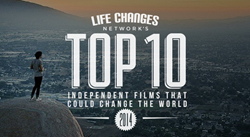 The emotional impact created by the producers of "#standwithme" is powerful. All of the proceeds received from the rental or purchase of the film is dedicated to freeing children from slavery.
Los Angeles, CA (PRWEB) December 01, 2014
Hundreds of excellent independent films were reviewed by the people in and behind the scenes of the Life Changes Network this year to come up with the Top 10 List of The Best Life Changing Movies in 2014. It is the 2nd Annual recognition of excellence from the network whose sole focus is delivering content that can inspire and change lives of individuals and people around the world in a positive way.
The independent films that made the cut are exemplary in that they provide constructive and inventive solutions to pressing issues of our times, ranging from physical, mental and dietary health epidemics to child slavery. Several are film festival award winners and some have had limited distribution in theaters. None had the benefit of expensive promotional campaigns to raise consumer awareness afforded by big budget movies.
"These films deserve to be seen", says Filippo Voltaggio, host of The Life Changes Show with Filippo and participant in the election process. "We are proud to say that we are giving all the people who missed these important films a second chance to experience one or all of them via a portal on The Life Changes web site. There, visitors can view trailers of every film, and have the opportunity to rent, buy, share or gift the films to their friends, families and communities."
Here is the Top 10 List and short synopses of the life-changing reasons why they were selected:
#10: "Overfed & Undernourished" Because our modern food culture shouldn't keep us from healthy, happy lives.
# 9: "Addicted" Because physical & emotional recovery is possible with the universal language of music.
# 8: "Carb-Loaded: A Culture Dying to Eat" Because millions of Americans can prevent or manage their diabetes through healthy eating.
# 7: "The Amazing You" Because expanding our minds beyond their frontiers can help us reach our greatest purpose.
# 6: "Song of the New Earth" Because we can heal our bodies & souls with the healing power of sound.
# 5: "Kids' Rights: The Business of Adoption" Because eliminating the roadblocks to adoption gives children a chance at a forever home.
# 4: "Alive Inside" Because we can battle Alzheimer's disease & dementia by turning up the music.
# 3: "Bought" Because we have a right to know what's in the "safe" food & drugs we consume every day.
#. 2: 'E-Motion" Because freeing our minds from fear and anxiety unleashes our highest potential.
# 1: "#standwithme" Because it's possible to liberate enslaved children with the sales from a lemonade stand.
Last year's Top Ten List started breaking new ground and was shared through social media by thousands of people seeking informative, constructive and entertaining content. The list even got a nod of approval from award winning actress, Sharon Stone, who after seeing the list, wrote to congratulate the No. 1 Film's director saying: "Now that matters."
About the Life Changes Network and Show
The LIFE CHANGES Show with Filippo on BBS Radio is the ever-insightful variety show that captivates our fascination and insatiability for the inspiring moments of real-life journeys – those moments that define (or re-define) who we are as individuals, how we evolve in our potential and how we become the very change we wish to see in our world.
The show is hosted and produced by people who have walked the path of change themselves - Host Filippo Voltaggio, Co-Host Mark Laisure and Executive Producer Dorothy Donahue. Going on its sixth year of live weekly radio broadcasts, it showcases and explores transformational stories of change behind the more known stories of public and personal success. Through rare, personal, intimate stories and impromptu, on-show revelations from guests (including pop-culture celebrities, politicians, authors, artists, journalists, business tycoons, physicians, spiritual gurus and everyday people), The show not only inspires audiences to embrace change in their own lives, but also to truly engage it in becoming the very change they wish to see in themselves… and in the world.