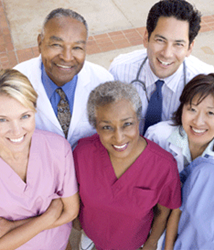 We opened a clinic in the Colton area to give our clients reliable medical treatment and quick access to occupational care for their injured workers
La Mirada, CA (PRWEB) November 28, 2014
If you or someone you know has been injured at work, local and affordable treatment is available at Healthpointe in Colton. Healthpointe's Colton clinic provides occupational and industrial medicine services to clients and employers in the area. Board-certified medical specialists work closely with patients who have been injured at work, with the goal of treating their injuries and returning them back to work. Patients can receive care from orthopedists, neurosurgeons, general surgeons, podiatrists, physiatrists, psychologists, neurologists, physical therapists, and other trained experts specializing in work related injuries.
Along with caring for work-related injuries, Healthpointe's Colton clinic provides on-site safety training and ergonomic assessments, pre-employment screenings and physicals, physical therapy, and pain management. Doctors at Healthpointe work with employers and clients by putting injured workers on modified work while they recover from their injuries. If an employer can't accommodate the injured worker Healthpointe has a transitional return to work program that allows the employee to remain working. Healthpointe's occupational medicine specialists treat each patient with excellent individualized care which allows for faster patient recovery and lowering total claim costs.
"In Colton, our employer clients have anywhere from a handful of workers to thousands of employees," says Joy Medina, Director of Client Services. "We opened a clinic in the Colton area to give our clients reliable medical treatment and quick access to occupational care for their injured workers". The list of occupational and industrial services Healthpointe offers includes but is not limited to: onsite diagnostic testing, functional capacity exams, work conditioning programs, Return to Work and Wellness programs, in-house pharmacy, as well as client/employer online access to patient stats and downloadable forms through their website.
To learn more about Healthpointe's occupational medicine program in Colton, call (844) 887-7882 or visit Healthpointemd.net.
About Healthpointe:
Healthpointe is a leading multidisciplinary healthcare organization offering a full range of medical services in practice locations throughout Southern California (Los Angeles County, Orange County, San Bernardino County, and Riverside County). As a highly regarded musculoskeletal group, we have a personal investment in the highest level of medical service, and we are proud of our record of excellence over the last four decades with private patients, injured workers, urgent care, personal injuries, and professional and non-professional athletes. Leading our organization is a dynamic team of healthcare professionals who continually strive to be at the forefront of medical innovation and healthcare service delivery. For more information, a complete list of medical services, and Healthpointe locations, visit http://www.Healthpointemd.net