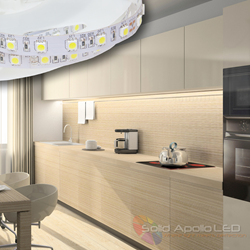 Solid Apollo's LED Strip Lights are both durable and vibrant, projecting the same color and brightness for the entire lifetime of the strip.
Seattle, WA (PRWEB) November 28, 2014
Solid Apollo LED introduces a large selection of vibrant and fully controllable LED Strip Lights for indoor and outdoor projects, with a wide selection of precise colors to match any application. The LED light strips are available in indoor and waterproof outdoor options using either energy saving 12V or 24V DC low voltage. Currently there are an abundance of LED lights available on the market, but finding a high quality and long lasting flexible LED strip light can be difficult. Most versions in the market consist of low quality strips at discount prices that only last a few months before dimming or burning out. Worse yet, low quality spools sold under the same color have been found to have color variations in individual LED's or entire spools making color matching difficult. Some even have limited or no accessories available to properly install the light strip for a precise fit and a durable installation.
Solid Apollo LED light strips are fully ETL certified to ensure complete quality and durability. A 3 year warranty also comes standard on every light strip to ensure they perform flawlessly from the first day of installation and through the entire advertised lifetime. The LED Strip Lights are manufactured with high quality materials and specific tolerances to ensure the color and brightness is always consistent on every LED and every LED spool. Four different white colors are available, Candle White Warm White (2400 kelvin), Warm White (3100 k), Daylight White (4500 k) and Pure White (6000 k). Vibrant non-white colors are also available in red, blue, green and amber.
Solid Apollo LED strip lights are perfect for indoor applications, and with the low profile design and double sided tape, strip lights can fit into places unable to be reached before. "Solid Apollo's LED Strip Lights are both durable and vibrant, projecting the same color and brightness for the entire lifetime of the strip" stated Manuel Barquin, CEO of Solid Apollo LED. For the kitchen, strip lights are easy to install for undercabinet lighting, whether using for easy task lighting or for subtle accent lighting. Compared to traditional bulky and cumbersome lighting, LED strip lights are low profile and easy to conceal. In the living room, use strip light to highlight coves in the ceiling for a gentle glow. The strip lights can be added under railing or along staircases and hallways to highlight features and for extra safety. All Solid Apollo LED Strip Lights are a flexible design, able to conform to shapes either up or down, but they cannot be flexed side to side, in this case light strip interconnectors are required to change the direction. A full range of LED accessories are available, such as 90 degree interconnectors and 3-way "T" interconnectors to make each connection as simple as possible.
Solid Apollo outdoor waterproof LED Strip Lights are made with a durable clear weatherproof silicone layer with built in UV protection to ensure the silicone material never breaks down and does not yellow over time. Waterproof LED strip lights are perfect for general outdoor use, or in bathrooms and other high humidity locations. Waterproof strip lights easily bring attractive accent lighting and safety to areas where traditional outdoor lighting would be too bulky and would disturb the design and desired appearance. LED's also work great in cold weather compared to traditional lights, as they do not contain components that could freeze and are rated to a chilly -4 degrees Fahrenheit. Around the house, strip lights can be used to frame soffits, or along the railing on decks and patios to highlight features. In the yard, the low voltage and waterproof designs are great for use in tree houses, or around play equipment, such as swings, for exciting lighting effects and extra safety.
Solid Apollo LED Strip Lights come in a variety of precise, durable and vibrant colors which are easy to control. A full range of LED dimmers and color changing RGB controllers are available, so fine tuning the exact color or desired brightness is easy. Remote controls and in-wall controllers come in a variety of styles and a smartphone/tablet wireless control option is also available. Solid Apollo LED recently released the Gecko 2 Zone LED Dimmer, a fully wireless and modern design finished in ivory white. The Gecko was created to look and feel like a normal in-wall dimmer, but without the hassle of installation and wiring normally associated with typical dimmers.
Solid Apollo LED Strip Lights are created using high quality materials and with a 3 year warranty and a variety of matching accessories, adding LED strip lights to even the most intricate designs is easier than ever before.
About SolidApollo.com: Solid Apollo manufactures and distributes a wide range of LED lighting products and solutions.