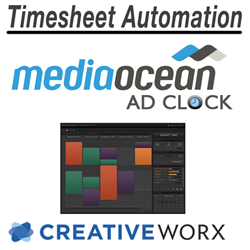 A dream-come-true... now ad agencies using MediaOcean can have accurate timesheets with less effort!
New York, NY (PRWEB) December 01, 2014
CreativeWorx has announced that TimeTracker, the advertising industry's only automatic timesheet solution, has been successfully integrated with the MediaOcean agency management solution to provide accurate timesheet data.
TimeTracker directly improves a company's profitability, productivity and business intelligence by automatically capturing employees' time and activity.
"As a plug-in to MediaOcean and other agency financial systems, TimeTracker significantly enhances employee usability and improves the data for finance and operations teams," said CreativeWorx CEO Mark Hirsch. "TimeTracker brings much needed relief for agencies struggling to remain competitive and maintain profitability."
Before TimeTracker, timesheet accuracy and compliance were two of the biggest problems facing the professional services industries, especially the advertising industry. By eliminating the timesheet issues, agencies can be more competitive…delighting their customers while improving both their revenue and profitability.
With TimeTracker, billable employees spend less time 'guessing' and revising their timesheets… so they have more time to focus on client work. This extra focus lets them do better client work while giving their agency executives faster access to more accurate analyses.
Advertising agency Kirshenbaum Bond Senecal + partners has been using CreativeWorx TimeTracker to enhance its MediaOcean deployment. They reported "improved easy of use, better timesheet compliance and accuracy, a better real-time understanding of how resources are being spent, and improved reporting to clients" by integrating TimeTracker with MediaOcean Ad Clock.
"This is as much a must-have health and wellness tool for employees as it is a must-have data accuracy tool for finance teams," added Hirsch.
For more information about integration CreativeWorx TimeTracker with the MediaOcean AdClock system, please contact CreativeWorx.
About MediaOcean
Mediaocean is the leading software platform provider for the marketing world. Its open traditional and digital media platforms empower businesses and professionals across the global marketing ecosystem with intelligent automation, efficiency, and flexibility in their workflow – from planning and buying, to analyzing and optimizing, to invoicing and payments. With over 80,000 advertising professionals conducting 7 million transactions daily across all media channels and managing $100 billion annually through its platforms, Mediaocean drives the marketing universe forward. Mediaocean is headquartered in New York with six offices worldwide. Learn more at http://www.Mediaocean.com, or connect with Mediaocean on LinkedIn, Facebook or Twitter.
About CreativeWorx
CreativeWorx is a software company whose unique data-mining platform automatically helps companies improve productivity and helps people get more from their lives. Focusing initially on the professional services industries, notably advertising agencies, CreativeWorx has solved the challenges of timesheet compliance and accuracy. CreativeWorx is based in New York, NY and is privately funded. For more information on CreativeWorx, please visit http://www.creativeworx.com or follow us at @CreativeWorxCo