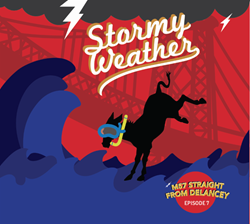 New York, NY (PRWEB) November 29, 2014
Moscow 57, the New York-based hospitality and entertainment company, released a listening card for its virtual CD, "Stormy Weather" at the American Sustainable Business Council (ASBC) 3rd Annual Washington, DC Summit, November 12 – 14, 2014. Moscow 57 is a member of ASBC.
Stormy Weather opens with Cleve Douglass singing "Come Rain or Come Shine" and features Ellen Kaye, owner of Moscow 57 singing the title tune, as well as Annie Lennox's "Cold"; "Raindrops Keep Falling on my Head"; "The Hounds of Winter," by Sting; Neil Young's "Harvest Moon"; the original "The World is Your Oyster," by Kaye and Ethan Fein; and Sam Cooke's "Good Times," sung by Kaye and Douglass. The M57 Band accompanies both vocalists and features musical director Ethan Fein on guitar, Benjamin Franklin Brown on bass and Kory Grossman on drums. Also included are a reading of William Wordsworth by Helene Gresser and a series of interviews with members of the ASBC.
The songs and interviews in Stormy Weather were edited from Episode 7 of M57 Straight from Delancey, a weekly radio show heard on WVOX 1460 AM, New Rochelle, NY and on the Moscow 57 Website http://www.moscow57.com. It was timed to coordinate with the recent UN Summit on Climate Change in NYC. The radio show and the "virtual EP CD" is produced by Ellen Kaye, Seth Goldman and Ethan Fein.
The theme of the show, coordinated by the American Sustainable Business Council, is "Stormy Weather – The Business of Addressing Climate Change." Among the guests on the show who are heard on the CD are ASBC members Michael Green, program director for the Climate Action Liaison Coalition and Miriam Novalle of T Salon, who brought tea cocktails for the audience to enjoy during the show. Also appearing is actor/comedian Marilyn Sokol. The listening card was handed out to participants of the summit, both ASBC members and the policy makers they met with. http://bit.ly/1r6I81O
"Most policy-makers agree that economic inequality is a failure of the market, but they disagree on what to do about it," said ASBC's Vice President of Policy Richard Eidlin. "Our solutions are a mix of traditional policy interventions such as increasing the minimum wage and improving access to credit, as well as innovative, market-based ideas and business models that provide greater opportunities for worker ownership. We need to move quickly to a more robust economy that provides a better balance of gains across the economy and in a way that is sustainable."
As economic inequality remains a key national policy concern, ASBC believes that economic inequality slows the economy and presents a barrier to a fully productive workforce. The business advocacy organization promotes such solutions as increasing the minimum wage, employee ownership, access to credit for small businesses, and assistance for micro-enterprises.
About Ellen Kaye
Ellen Kaye performs nightly with Ethan Fein and the Moscow 57 Band at their new restaurant, Moscow 57 on Delancey, a Russian Central Asian restaurant with nightly live music. Ellen has performed at Carnegie Hall (with the New York Pops), Town Hall, noted jazz club The Iridium, and the Metropolitan Room. Kaye's recordings are "Ice Wine - Songs for Christmas and dark winter nights," "3AM…the dogs, the milkman & me," "2AM," and a single by Dar Williams "When I Was a Boy."
Ellen owns Moscow 57 on Delancey with partners Seth Goldman and Ethan Fein. Their company Moscow 57 is comprised of the restaurant, a catering division, a small music label, theater and film productions, and its own M57 On-Air Urban Salon podcasts. The company creates M57 Urban Salons, evenings of music, food and digital visual art displays, from Harlem to New Orleans. Soon, the restaurant will have a Sunday night radio show.
About Cleve Douglass
Improvisational jazz vocalist Cleve Douglass began his vocal training in classical (operatic) vocal technique, then studied and worked in musical theater, which eventually led him to his passion: jazz and scat improvisations. His multi-cultural recordings embrace the styles of Bossa Nova, swing, Afro-Cuban, electronic, and standards from The Great American Songbook. After extensively touring and performing in Japan, Cleve brings an air of sophistication and retro-nouveau sensibility to a number of bands in New York City, appearing on dates at the Blue Note and NBC's "The Today Show."
About Helene Gresser
Helene is a comedian, actress, and writer. Sometimes she writes funny songs. She may also serve you a drink tonight, and possibly some food. She co-created the webisode series "Hey Rude" and has been featured on the Tyra Banks show discussing rude behavior, even though she was so heavily made-up she could barely open her falsie-laden eyelids. Currently she is working on her one-woman, autobiographical comedy show, tentatively titled "SHEEZUS! (Comin' To Get Ya!)" in which she reads from her very DRAMATIC childhood journals and occasionally breaks out into songs from Jesus Christ Superstar. Helene is also opening her delightfully cozy thrift store, Artistic Thrift, in her Ridgewood, Queens neighborhood, and hopes you come by to listen to ole-timey vinyl records and peruse her vast collection of tchotchkes, thingamajigs, and doo-dads. Originally from Shorewood, Wisconsin, she credits below-zero temperatures and consumption of vast quantities of sausage, cheese, and beer for her family's bizarre sense of humor. Her brother John is far funnier, but he lives in Milwaukee, so he cannot steal her limelight now, thank Sheezus.
About Ethan Fein
Ethan is our Moscow 57 music maven and Ellen's accompanist and musical director. He has played guitar in concerts with Kristen Chenoweth, Bernadette Peters, Marvin Hamlisch, Cy Coleman, and Carole King, to name a few. Ethan also played in the Broadway shows "42nd Street," "West Side Story," "The Full Monty," and "Cats" for its entire run. Ethan co-produced Ellen's latest CDs "Ice Wine – songs for Christmas and dark winter nights" and the single "When I Was A Boy" with Seth Goldman and Ellen. He has just finished co-writing a new musical with Robby Merkin.
About ASBC
The American Sustainable Business Council and the ASBC Action Fund represent a membership network of more than 200,000 businesses nationwide, and more than 325,000 entrepreneurs, executives, managers and investors. The Council http://www.asbcouncil.org informs policy makers and the public about the need and opportunities for building a vibrant and sustainable economy. The Action Fund http://www.asbcaction.org advocates for legislative change.
About CABA
The Climate Action Business Association is a coalition of local businesses taking action on climate change. The coalition provides participating businesses with the resources and tools needed work within the business on climate change and sustainability efforts, and within the coalition on broader policy initiatives. The coalition members set policy priorities, and create opportunities for business owners to leverage voice in policy. CABA welcomes all independent businesses looking to be effective policy advocates and offer resources to this collective effort.
About Michael Green
Michael is the program director at CABA. Since 2012, he has also served as a representative to the United Nations focusing on international climate science and policy. As an activist, Michael has played strategic roles in several of the largest national, as well as international campaigns dedicated to fighting climate change. In his role at CABA, Michael ensures that all Climate Action Liaisons are recruited, trained, organized and coordinated to represent CABA businesses in the fight for a safe climate.
About T Salon
T Salon's mission is to create a ground swell of conscious tea drinkers and inspire the heartbeat of millions through the spirit of an everyday cup of tea. To walk and talk with our eyes open, keep an open heart and mind, and educate our customers in the ancient world and the art of tea.
More than that, they are dedicated to expanding the virtues of responsible business practices by maintaining a social and environmental awareness. They do this by providing non-GMO, fair trade options while using recyclable material for distribution. However, T Salon also takes it one step further by supporting the American Sustainable Business Council, which gives them an active voice in shaping policies that will create a better world. From a passion for aroma, to a passion for wellness, to a passion for the environment, they reach towards enlightenment for ourselves and others through tea.
T Salon has served and donated teas throughout the years to breast cancer awareness, ovarian cancer foundations, and heart health foundations. They support events in the public interest from Donna Karan's Urban Zen and the Clinton Global Initiative to encounters with the Dali Lama. http://www.tsalon.com
About Miriam Novalle
Miriam Novalle is the founder and CEO of T Salon established in 1992. By using her extraordinary skills as a perfumer or "Nose," she has since been dubbed by New York Times as the "Tea Guru" for her harmonious blends.
When Miriam opened her first T Salon there were only a handful of establishments in New York City that offered the tradition of tea. She has since engaged T Salon products in "pop-up companies" for MAC cosmetics and New York City's High Line, where her teas can be found within already established businesses.
As the tea business grew, Miriam again expanded T Salon by focusing on distributing tea as a wholesale tea merchant with a focus on eco-friendly business practices. Her passion for tea combined with her passion for the environment has revolutionized the tea industry to create a sustainable industry with a conscience.
Miriam believes in more than building a thriving business; she believes in a business that gives back to the consumers and the community. T Salon has healthy environmental options that educate her customers about the history, art and production of tea, but she also firmly believes in the healing power of tea.
About Marilyn Sokol
Marilyn Sokol is an actress, comedienne and singer of many moods, sharing her talents in virtually every performing arts medium - from the Broadway stage to Hollywood films, and from primetime TV and an Emmy Award to Off Broadway and an Obie Award.
In 1966 Marilyn made her professional debut as The Belly Dancer in the 1st National Company of MAN OF LA MANCHA, with Jose Ferrer and later Richard Kiley. She then joined the revolutionary theatre group, THE SAN FRANCISCO MIME TROUPE, touring nationally, culminating in her NYC Off Broadway debut. She performed at The Bitter End and The Improv with the comedy improvisation group The Ace Trucking Company, which led to several TV appearances with them, including THE TONIGHT SHOW and THE MIKE DOUGLAS SHOW. Marilyn received the 1972 OBIE AWARD for her portrayal of Lucy Lockit in The Chelsea Theatre's production of THE BEGGAR'S OPERA. Her Broadway debut followed in The New Phoenix Repertory's productions of Eugene's O'Neill's THE GREAT GOD BROWN and Moliere's DON JUAN. She made her nightclub debut in 1973, at RENO SWEENEY'S, followed by appearances across the nation, leading to a 3-month long engagement at THE BALLROOM. Her film career began with a scene with Woody Allen in THE FRONT. Marilyn was also featured in the film of the Broadway hit THE PRODUCERS, among a number of other films.
Television audiences recall her on ABC's LOLA FALANA SPECIALS, opposite Dick Van Dyke on NBC's VAN DYKE AND COMPANY, on BARNEY MILLER and on Norman Lear's hilarious ALL THAT GLITTERS. Marilyn was invited on all the talk shows, becoming one of Johnny Carson's most popular guests on THE TONIGHT SHOW. She was also a favorite on THE MERV GRIFFIN SHOW, being held over for an unprecedented 45-minute segment during her first appearance. Marilyn was seen in SEX AND THE CITY, as sex therapist, Velma Rudin.
She received a1992 EMMY AWARD for her performance in a series of comedy programs, entitled SNEAK PEEK, for ABC-TV in Washington D.C. Marilyn is a lifetime member of The Actors Studio.
ABOUT MOSCOW 57
Moscow 57, the hospitality and entertainment company, was launched several years ago by partners Ellen Kaye, Seth Goldman and Ethan Fein. For the past two years, the company has been hosting its M57 Urban Salons, evenings of music, food and digital visual art displays, in Harlem; Washington Heights; Chelsea; the Upper East Side; the East Village; Governors Island; New Milford, Connecticut; and New Orleans. Moscow 57 has made New Orleans a home away from home, with regular forays into that city's world-renowned culture of Southern hospitality, regional cuisine, and world-class entertainment.
After performing at and co-producing events with New York's Corcho Wine Room, as well as celebrating Latin American culture in New Orleans, this cosmopolitan attitude is being brought to Moscow 57's permanent home on New York City's Lower East Side every night.
Moscow 57 Entertaining, created in partnership with Ethan Fein, is developing projects for film, television and theater. Its music company produces podcasts, live performances, recordings and videos. Moscow 57's first CD releases have already garnered national radio airplay, and the company's videos can be seen on the Moscow57Entertaining YouTube channel.
M57 Straight From Delancey, broadcasts every Sunday night at 7:00pm from the restaurant. The show can be heard on WVOX 1460 AM (and streamed on the radio station's website, http://www.wvox.com) and as a podcast on Moscow 57's website. M57 Straight from Delancey is hosted by Moscow 57 owners Ellen Kaye and Seth Goldman along with Music Director/Producer Ethan Fein. The show, which features live music performances, interviews with artists and community cultural icons, began airing on August 17th and has a ten-week commitment from the station. The M57 Band is led by arranger/producer Ethan Fein on guitar and banjo and features Benjamin Franklin Brown on Bass.
M57 Straight From Delancey airs every Sunday night at 7:00pm on WVOX 1460 AM, streams live on their website, http://www.wvox.com, and is archived there and at http://www.moscow57.com.