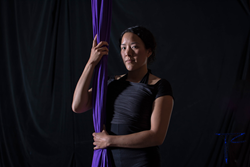 Santa Fe, NM (PRWEB) November 28, 2014
The Southwestern Association for Indian Arts (SWAIA) presents the 9th annual Winter Indian Market, Thanksgiving weekend, November 29-30 at the Santa Fe Community Convention Center.
This smaller, more intimate version of the summer Santa Fe Indian Market® features approximately 200 Native American artists and live performances. For the first time at either Indian Market®, one of the performances will be a Native American aerialist. A graduate of the Institute of American Indian Arts (IAIA) and a member of local performance group Wise Fool, Crystal Worl will perform a couple of times each day. Crystal is Tlingit/Athabascan and from Anchorage, Alaska but was living here to go to school at IAIA. She has been traveling recently but was able to return to Santa Fe to perform this weekend. This type of aerial performance uses a fabric that is suspended from the ceiling. Crystal uses the fabric in various configurations to spin and create movement. This type of performance is similar to what you would see at a Cirque du Soleil show.
Crystal stated that she would like to encourage and empower more Native youth to take up performance. She is a role model as a young Native female, an emerging artist, a performer and a recent college graduate. John Paul Rangel remarked, "Crystal's performance adds a another dimension to live traditional and contemporary Native American cultural expression. We [the Santa Fe Indian Market®] want to keep current and expand people's perceptions of Native art and culture. Native people are always expanding their visual vocabulary and incorporating new influences which reflect their dynamic cultures and traditions."
As part of the Winter Indian Market®, SWAIA is also hosting their inaugural Festival of Trees benefit. Local businesses, Native artists and individuals have donated fully decorated trees to be auctioned off over the weekend. Immediately following the close of Winter Indian Market® on Saturday night, there is a benefit reception and concert featuring Iron Horse, a new collaboration by award-winning Native rock musicians Robby Romero and Robert Mirabal. Sat Nov 29, 5-7. Tickets are $15 at the door.
Winter Indian Market®, Thanksgiving weekend, November 29-30,
Saturday, Nov 29 9a–5p Sunday, Nov 30 10a–5p
Santa Fe Community Convention Center. 201 W. Marcy
Admission: $10 daily / $15 weekend pass. Members and children (under 12) are free.
Tickets available at the door.
Iron Horse Benefit Concert & Reception, Sat Nov 29, 5-7,
O'Keefe Ballroom, Santa Fe Community Convention Center
Tickets $15 at the door
About SWAIA-Santa Fe Indian Market
In their 94th year, the Southwestern Association for Indian Arts produces the annual Santa Fe Indian Market®, the largest and most prestigious Native fine art show in the world. The Santa Fe Indian Market® exists to provide a platform for established and aspiring Native/Indigenous artists to nurture and sell the art they create. http://www.santafeindianmarket.com http://www.facebook.com/SWAIA
– ### –