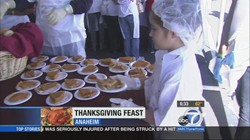 Volunteers celebrated this 20 year tradition
Santa Ana, CA (PRWEB) November 29, 2014
Hundreds of Orange County's' most impoverished men, women and children celebrated Thanksgiving Dinner with an army of caring volunteers from all over Orange County on Thanksgiving led by Robert A. Ferrante.
Robert A. Ferrante hosted Thanksgiving dinner at the Orange County Mission this year as he has been for the past five years. Volunteers celebrated this 20 year tradition by cooking, preparing and serving over a ton of giant turkey legs, 500 pounds of mashed potatoes, 80 gallons of gravy, hundreds of pounds of traditional cornbread stuffing, 560 pounds of candied yams, 585 pounds of green beans, glazed carrots, spiced peaches, cranberry sauce and 400 pumpkin pies.
Ted Bell, owner of Ted's of Beverly Hills Steakhouse, generously donated the use of his huge commercial ovens to help roast the turkey.
This annual dinner doesn't only draw homeless people. It also draws working families who can't afford to cook a Thanksgiving Day dinner of their own. The Mission served a record number of people.
Robert A. Ferrante, a former Orange County developer, has been extremely active in many philanthropic and charitable causes throughout Orange County over the last five years.