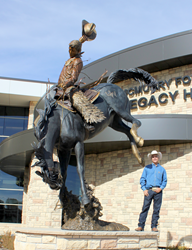 ''We all die the goal is not to live forever the goal is to create something that will.''
Laramie, WY (PRWEB) November 18, 2014
A traumatic "old west" style injury nearly prevented renowned sculptor, Chris Navarro from dedicating his 20 foot tall bronze sculpture at the Marian H. Rochelle Gateway Center in Laramie, Wyoming. Funded entirely through private support, the 67,000-square-foot, 35 million dollar building is home to the University of Wyoming Alumni Association, the UW Office of Admissions, UW's Center for Advising and Career Services, and the UW Foundation. It features state-of-the-art technological infrastructure, including video and digital features that rival professional sports facilities. The Center provides a gracious entrance to the University of Wyoming.
Navarro was severely injured in a horse accident while competing in a matched cowboy horse race on September 26, 2014. During the race a loose horse collided with Navarro's mount resulting in a rollover wreck where Navarro absorbed the brunt of the damage. He was life-flighted to a hospital in Santa Fe, New Mexico with 7 broken ribs, a shattered collar bone, cracked shoulder blade, collapsed lung, and a concussion. Working through his injuries, Navarro completed the aptly named "Wyoming Cowboy" sculpture and delivered it on time for the dedication on October 24, 2014, where it stands at the entrance of the new Gateway Center.
''I believe being a rodeo cowboy was good training in becoming a professional artist. You have to be physically and mentally tough and learn to compete when you are hurt. You have to come through and deliver and never give up because you never know what you can do until you try. We all suffer setbacks from time to time. It is the way we react to them that counts," said Navarro.
"Wyoming Cowboy" was modeled after the legendary bucking horse, Steamboat, whose iconic silhouette has been representing the Equality State for well over 100 years. Similarly to the history and spirit of Steamboat, the cowboy astride a bucking horse embodies the toughness, pride, and independence of Wyoming's residents be they man or beast.
"I wanted to show the determination and spirit of both the horse and the rider in a contest of one man against one horse. The sculpture carries the brand and symbol of the University of Wyoming. Both represent our western heritage, spirit of the west, and the best of Wyoming," Navarro said.
From Casper, Wyoming, the bronze sculptor and cowboy artist has been sculpting professionally since 1986. Best known for his large bronze sculptures, Navarro has created and distributed over 28 monumental sculptures throughout the country.
"The creation of monuments is extremely time consuming and labor intensive, requiring an initial design, creating a clay model, then casting it in bronze through the lost wax method. The great thing about working with bronze it is such a strong, durable, and permanent medium. In the end it is not about how many years you lived in this world but what you leave behind that truly matters. Knowing my work will be standing in the sun long after I'm gone for future generations to experience and enjoy is extremely rewarding. Sculpting is what I do for a living, but I do not ever plan on retiring. I have found something I really love to do and hope others can see that through the works I have created. We all die the goal is not to live forever the goal is to create something that will."
The Marian H. Rochelle Gateway Center provides a gracious entrance to the University of Wyoming. It is a tribute to the university and to Wyoming.
http://www.chrisnavarro.com chrisnavarrostudio(at)gmail(dot)com (307) 259 -7305