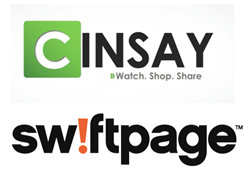 Cinsay's technology compliments Swiftpage's current suite of business applications perfectly. Our customers are now offered a well-rounded, complete set of business tools
Austin, TX (PRWEB) December 16, 2014
Cinsay, the leader in video commerce, and Swiftpage, the maker of Act! and a leading provider of software and services that help small businesses grow, have announced today a new distribution partnership. Swiftpage will feature Cinsay's video technology solution packages into its Act! Marketplace and offer special pricing and a thirty-day free, introductory subscription to Cinsay's multipatented transactional video platform.
"This is a tremendous opportunity for Cinsay. To be showcased in Swiftpage's Marketplace as a preferred business solution, we'll be able to help their small and medium size businesses increase their visibility, get more leads, and make more online sales through the power of video," said Christian Briggs, Founder and CEO of Cinsay.
Most businesses and organizations are leveraging social media at some level and Cinsay's Video Smart Store (VSS), is designed to be shared and even embedded within seconds into sites like Facebook, tumblr and on web sites created with Wordpress. With web and mobile traffic now reaching over 50% in video content, Cinsay's syndicatable and shareable player is the perfect Cloud-based tool for anyone selling online.
"Cinsay's technology compliments Swiftpage's current suite of business applications perfectly. Our customers are now offered a well-rounded, complete set of business tools that offer the best in online and mobile business apps along with platforms that cater specifically to business ecommerce, in-depth analytics and operations for SMBs," said H. John Oechsle, President and CEO of Swiftpage.
Featured in the Swiftpage / Cinsay package, businesses receive the multipatented VSS, free domain name registration, free hosting, free website, a free pre-approved merchant account and business email. Cinsay's technology also supports multiple currencies and languages including, Spanish (Mexico, Colombia, Argentina and Brazil).
This makes the second major SMB market distribution opportunity for Cinsay following Yahoo's Commerce Central deployment in February 2014. To learn more about Swiftpage and Cinsay, visit the link http://act.com/marketplace/Cinsay-Video-eCommerce/
Why Online Video Works for Business:

Online video now accounts for more than 50 percent of all mobile traffic. The Cinsay Video Store™ is over 3x more likely to help merchants make online sales vs. a traditional shopping cart or static online ad.
96% of online shoppers watch video online.
68% of viewers that linked out of a video to a shopping cart abandoned their purchase. By allowing customers to purchase inside a video player without leaving the video experience, shoppers stay more engaged, and drive more sales.
Facebook has over 1 billion users and 50% of all people who surf the web use Social Media. That's why 60% of all SMBs have acquired new customers using Social Media. Since the eCommerce player is sharable, anyone that sees it can interact with it. Wherever the video is shared, so goes the businesses' store, merchandise and other 'take actions'.
About Swiftpage
Swiftpage provides revolutionary technologies, fused with relevant content, that guide small businesses to the fastest path for growth. The company's growing network of partners, customers, end-users and employees collectively represent the Swiftpage Nation, united across the globe as one team, on one journey. Learn more at http://www.swiftpage.com and join the conversation at social.swiftpage.com.
Act! Product Portfolio
Act! is the #1 best-selling contact and customer manager for over 25 years. Designed to take the guesswork and complexity out of managing customer relationships, Act! gives users a 360-degree view of their contacts and interaction history, tightly coupled with simple yet powerful scheduling, opportunity management and emarketing tools. Act! enables users to determine the best next move more easily, then take action faster, so they focus more of their time on doing what matters most: converting leads, retaining customers and growing their businesses.
©2014 Swiftpage ACT! LLC. All rights reserved. Swiftpage, Act!, and the Swiftpage product and service names mentioned herein are registered trademarks or trademarks of Swiftpage ACT! LLC, or its affiliated entities. All other trademarks are property of their respective owners.
About Cinsay
Austin-based Cinsay has created a next-generation ecommerce, viewer interactive, video-based platform for any size business. Cinsay's syndicatable technology enables anyone to sell products, display printable coupons, capture donations, and generate leads all inside its multi-patented Video Smart Store™ (VSS) technology. Along with being the premiere video commerce provider for small and medium businesses, Cinsay is adding new exclusive content channels for sports, music and movies aligned with partners including Andretti Autosport via AndrettiTV.com and Suretone Entertainment via their site SureToneLive.com and has been selected as a software provider to SMBs via Yahoo's Commerce Central.
Forbes named Cinsay one of "America's Most Promising Companies" while eTail Conferences named Cinsay a "Rising Star in innovation" for 2012. Red Herring also selected Cinsay for the "Top 100 Companies in North America" for 2014. Cinsay's eCommerce video-based platform can be used for any individual or business. For more information, please visit http://www.cinsay.com or call 855-725-2462.
One or more of the following nine patents may protect Cinsay's software, systems, and/or services. U.S. Patent Nos. 7,840,415; 7,987,098; 8,769,053; 8,782,690; 8,813,132; 8,312,486; 8,533,753; 8,893,173 and 8,549,555. Visit http://www.cinsay.com/patents for more information.