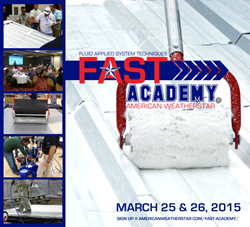 "We are thrilled to present our current contractors across the country and potential new dealers an opportunity to network and get to know our team and products on a more personal level."
Mobile, AL (PRWEB) December 06, 2014
The inaugural FAST (Fluid-Applied System Techniques) Academy at American WeatherStar, was held on November 5 and 6, 2014. Guests at the two-day course included contractors from across the country and equipment reps from Graco, Inc. and Rooftop Equipment. The primary goal of the event was to bring together American WeatherStar dealers, contractors, field representatives and staff members in a fast-paced, hands-on and traditional learning environment to expand knowledge of the coatings industry, strengthen skill sets with product application techniques and share tips on best sales practice as group.
"We are thrilled to present both our current contractors and potential new dealers across the country this opportunity to network with other members of the roof coatings industry, learn and share tips on application techniques and get to know our team and products on a more personal level. We are thankful for all the positive feedback from our first Academy, and the interest generated among our industry for the future of the course" said Brian O'Donnell, American WeatherStar President.
"We believe that our dynamic group of speakers and demonstrators provide keen insight on practical tools for accessing sales materials, product application methods, proper usage and care of coatings equipment, tips for best sales practices and the valuable methods of lead generation offered by the AWS Business Development Center."
The next FAST Academy is set for March 25-26, 2015. Those interested in the course can learn more and register online by visiting FAST Academy.
View a two-day breakdown of the course to learn about topics covered and view photos and videos from the first Academy.
Those interested in more information about American WeatherStar's advanced roof coating systems, or the proven value of lead generation programs available to commercial roofing contractors at American WeatherStar can learn more by visiting American WeatherStar.com or by contacting AWS at 800-771-6643.