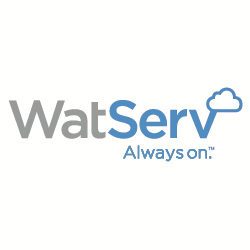 WatServ partners will be able to deploy Dynamics on Azure easier, quicker and more economically than the traditional method," said Tom Doerner, President of WatServ.
(PRWEB) December 02, 2014
Waterloo Managed Software Services USA Inc (WatServ) announced today that it has completed a multiple-year reseller agreement with 1Step2Cloud to provide portal solutions to authorized Microsoft resellers for deploying Dynamics NAV and Dynamics GP on Microsoft Azure. The agreement includes rights to the NAV portal and adds the exclusive rights to the GP2015 portal.
"WatServ partners will be able to deploy Dynamics on Azure easier, quicker and more economically than the traditional method," said Tom Doerner, President of WatServ. "WatServ will be working closely with 1Step2Cloud and Microsoft to build and test the portal for deploying Dynamics GP2015 on Azure before releasing to the Microsoft partner community. Both NAV and GP will be deployed on the WatServ/Azure platform as part of WatServ's Azure first strategy."
"1Step2Cloud's unique portal for automating the deployment of Dynamics on Azure has been successfully used by 1Step NAV partners in Europe for years," reported Bjarne Soeballe, CEO of 1Step2Cloud. "WatServ's technical experience with GP and their GP partner channel were factors in the decision to partner with WatServ for the new GP2015 portal."
About 1Step2Cloud
Headquartered in Herlev, Denmark, 1Step2Cloud is a leading developer of software solutions for deploying Microsoft Dynamics on the Microsoft Azure platform. For more information, please visit http://www.1Step2Cloud.com, email info(at)1Step2Cloud(dot)com or call +45 7020 5538
About WatServ
WatServ is one of the world's largest, most experienced providers of Cloud Computing services for hosted Microsoft Dynamics AX, GP, NAV, SL, CRM and other critical business systems. WatServ has operations in the USA, Canada and the UK. For more information, please visit http://www.watserv.com , email info(at)watserv(dot)com or call 1-866-531-2598