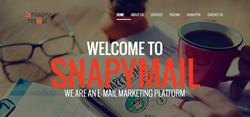 guarantees spam-free delivery
Los Angeles, CA (PRWEB) November 30, 2014
AlertifyMe Inc. is turning the e-mail service world on its head with the launch of SnapyMail, a new, guaranteed spam-free email marketing platform available for free now.
SnapyMail is an exciting addition to the e-mail marketers toolset. Unlike many mass mail platforms, SnapyMail guarantees that e-mails go directly to inbox instead of spam folders and can be used 100% free for up to 1000 e-mails per month.
SnapyMail users can effortlessly manage their subscribers, create high impact email campaigns and track user engagement through a dedicated dashboard. The platform is even optimized for mobile devices, offers dedicated 24/7 customer support, unlimited subscribers and extended click tracking - free to all users.
It's never been easier to manage your campaigns on the go.
Require more than 1000 e-mails per month? No problem! SnapyMail users can engage customers more regularly by taking advantage of a range affordable packages, starting at just $10p/m for Lite users, with special packages on offer for Enterprises.
"Not knowing whether your e-mail is hitting inboxes or spam folders is obviously a big problem for marketers," says AlertifyMe Inc. founder, Kalana Jayatilake. "We wanted to ensure our mails were hitting our users and, after perfecting the system for ourselves through internal testing, we decided to unleash it to the public as a cost-effective solution. SnapyMail was born!"
SnapyMail is available now. Interested users can learn more at the official site here: http://snapymail.com/
About AlertifyMe Inc.
AlertifyMe is an account management platform comprised of many useful services. The technology and networking company is best known for creating Selflantis, a social network for selfies, and JaegerTalk, a web based video conferencing network.
You can learn more about AlertifyMe Inc. at the official homepage: http://alertifyme.com