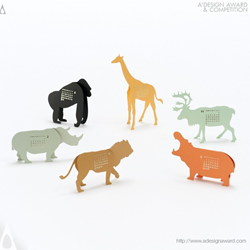 Como, Italy (PRWEB) November 29, 2014
A' International Design Awards are delighted to announce that the calendar design 2014 "Safari" by Katsumi Tamura has been honored with a renowned Golden A' Design Award in Graphics and Visual Communication Design Category.
Concerning Calendar 2014 "Safari"
Katsumi Tamura, the lead designer of the awarded Calendar "Safari" said: "Safari is a paper-craft calendar. Users can assemble the already cut sheets by folding and joining them to have monthly calendars with the form of safari animals. Each piece has an indicative mark to make the calendars easy to assemble and assembly instructions are also included. The Safari calendar designs were created to enrich office and desk spaces by providing a positive feeling through introduction of surprising, colorful and joyful elements." Learn more at: https://competition.adesignaward.com/design.php?ID=29512
Creative Team for Safari
Safari was designed by Art Director: Katsumi Tamura, Designer: Kohei Miyasaka and Copywriter: Toshiyuki Nagamatsu
The Golden A' Design Award
The Golden A' Design Award in Graphics Design is a prestigious award given to top 3% percentile designs that has exhibited an exemplary level of perfection in design. Nominated designs are judged by a panel of three different jury which is composed of academic, professional and media members. The designs are evaluated with score normalization to remove any biases and are voted on aspects such as functionality, ergonomics, engineering, presentation, innovation, usability, fun details, technology, and any other specific points that could be considered, each of these points are further weighted for different jury groups. Laureates of the A' Design Award & Competition are provided a series of services such as inclusion in World Design Rankings as well as Design Mega Store to celebrate the status of winning the accolades. Award winners are further featured through DXGN and IDNN design news networks to create dissemination possibilities.
About A' Design Award and Competition
A' Design Award and Competition aims to highlight and promote excellent architectural projects, best designs, good design concepts and high quality design oriented products worldwide in order to create a global awareness for good design. The ultimate aim of the A' Design Award and Competition is to push designers, architects, brands and product manufacturers to create products and services that benefit society, given this perspective the A' Design Accolades are organized and awarded annually and internationally in multiple categories to reach a wide, design-oriented audience. Learn more about the A' Design Contest at: http://www.whatisadesignaward.com