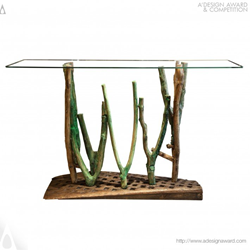 Como, Italy (PRWEB) November 29, 2014
A' International Design Award and Competition is delighted to announce that the furniture design "Qadem Hooks" by May Khoury became winner of the coveted Golden A' Design Award in Arts, Crafts and Ready-Made Design Competition.
Details of Qadem Hooks
May Khoury, the designer of the award winning furniture design "Qadem Hooks" said "Qadem Hooks is an art piece with a console function inspired by nature. It is composed of different painted green old hooks, which were used together with the Qadem (an old wooden mule's saddle back) for transporting wheat from one village to another. The hooks are attached to an old wheat thresher board, as a base and finished with a glass panel on top." To learn more visit: https://competition.adesignaward.com/design.php?ID=29919
The Golden A' Design Award
The Golden A' Design Award is a prestigious award given to top 3% percentile designs that has exhibited an exemplary level of excellence in design and arts. Entries to the A' Arts, Crafts and Ready-Made design competition are peer reviewed and anonymously judged by artists, scholars and press members following strict evaluation guidelines. Laureates of the A' Design Award are granted a series of PR and Publicity services such as exhibition of their work in Italy, as well as online sites such as DM Design Magazine. Award winners are also invited to make use of design mediators, designer rankings, design adage and other platforms designed by the A' Design Awards.
About A' Design Award and Competition
A' International Design Award and Competition aims to highlight and promote the very best designs, artwork, architectural projects and good products and services worldwide in order to create a global understanding and appreciation of good design. The ultimate aim of the A' Design Accolade is to push product manufacturers, designers, artists and architects from across the planet to come up with superior work that benefits society. The A' Design Competition is organized annually, in all creative categories and is open to submissions from all countries. Learn more at http://www.designinternational.org