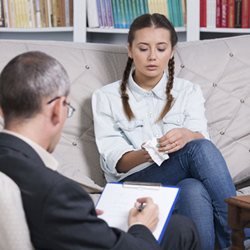 The evidence suggests that self-affirmation is a potent therapeutic intervention in a variety of clinical settings and, therefore, an important strategy for clinicians to have in their skill set.
Philadelphia, PA (PRWEB) December 02, 2014
Threats to identity can be take myriad forms. For example, the stereotype that women are poor at math and science can threaten women's perceptions of self-competence. Similarly, information that smoking contributes to cancer and other disease can threaten smokers' self-identity, suggesting that they are engaging in a behavior that is known not to be in their own best interest. Self-affirmation – a process by which individuals reflect on cherished personal values and how they fulfill or embody such values – is an effective clinical tool in reducing cognitive dissonance and psychological distress in response to such threats. By reducing defensiveness to the threat and mitigating the negative psychological effects of threats to identity, self-affirmation facilitates therapeutic goals with regard to various psychological, as well as medical, outcomes (e.g., 1-2). Self-affirmation can improve outcomes related to health, academic performance, and social relationships and its beneficial effects are quite robust, with even very brief self-affirmations displaying long-lasting benefits (e.g., 1-2). Because of its tremendous potential to improve the ability to withstand threats to self and identity, and to mitigate the negative psychological and behavioral effects of experiencing such threats, self-affirmation may be an underutilized tool for clinical therapy. Further, self-affirmation may be promising as a means of augmenting other clinical interventions (e.g., 3). HealthForumOnline (HFO), a nationally-approved (APA, ASWB, NBCC, CA-BBS) provider of online continuing education (CE) for mental health professionals is pleased to announce an important new CE course entitled, Translating Self-affirmation Interventions Into Clinical Settings, to its extensive library of online CE courses for psychologists, social workers, counselors, marital and family therapists, and other allied healthcare professionals. The information provided in this new online CE course will guide mental health professionals in the application of self-affirmation in their work with patients.
The evidence suggests that self-affirmation is a potent therapeutic intervention in a variety of clinical settings and, therefore, an important strategy for clinicians to have in their skill set. This new online CE course from HFO presents an introduction to the foundations of self-affirmation, and outlines potential clinical applications of self-affirmation, from a theory- and evidence-based perspective. The course provides mental health professionals with a solid understanding of the clinical applications of self-affirmation, highlighting situations in which – and patient populations for whom - self-affirmation may be particularly effective in motivating behavior change, as well as those in which it may be less efficacious. Methods used to facilitate self-affirmation in patients are differentiated and discussed to provide a roadmap for clinicians wanting to implement this strategy into their therapeutic repertoire. In addition, the course offers a brief discussion of spontaneous self-affirmation, or the natural tendency to self-affirm when faced with a threat to self-identity, as well as an explanation of how spontaneous self-affirmation is relevant to clinical care contexts. Finally, we present a number of limitations and other clinical considerations associated with self-affirmation, its effectiveness, and its translation to clinical care.
Mental health professionals can chose from HFO's 20 categories of continuing education (CE) topics related to health psychology and behavioral medicine containing over 95 online CE courses that are fast, convenient and cost-effective. Visit our Clinical Diagnosis and Treatment category to see other intervention-related online CE courses for mental health professionals. For a complete listing of titles in our online CE resource library, visit HealthForumOnline.com.
1. Cohen, G.L., & Sherman, D.K. (2014). The psychology of change: Self-affirmation and social psychological intervention. Annual Review of Psychology, 65, 333-371.
2. Sherman, D.K. (2013). Self-Affirmation: Understanding the Effects. Social and Personality Psychology Compass, 7(11), 834-845.
3. Ehret, P.J., LaBrie, J.W., Santerre, C., & Sherman, D.K. (2013). Self-affirmation and motivational interviewing: integrating perspectives to reduce resistance and increase efficacy of alcohol interventions. Health Psychology Review, ePub ahead of print. http://www.tandfonline.com/doi/abs/10.1080/17437199.2013.840953#.VGJpDTTF-ce