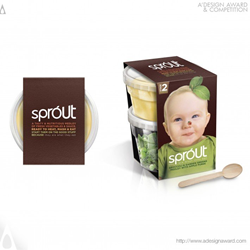 Como, Italy (PRWEB) November 29, 2014
A' Design Award and Competition is delighted to announce that the design "Sprout" by Springetts Brand Design Consultants have attained the coveted Golden A' Design Award in Packaging Design Competition.
Details of Sprout
Springetts Brand Design Consultants, the creative design team behind the award winning packaging design Sprout demonstrates "A brand idea seeking to break new ground in the baby food category by the introducing a fresh chilled range of part-prepared baby food, similar to formats available for adults. This would allow mums to make their 'own' baby food easily and quickly. The concept name is intended to convey the integrity of the ingredients and how the right food is key to healthy development. The creative execution is a playful, literal expression of 'you are what you eat' - presenting your baby as happy and healthy with the help of the best ingredients." Learn more about this design: https://competition.adesignaward.com/design.php?ID=29955
Design Team for Sprout
Sprout was realized by Moyra Casey and Kelly Bennett
The Golden A' Design Award
The Golden A' Design Award is a prestigious award given to top 3% percentile designs that has delivered an exemplary level of excellence in design. Entries to the A' Design Award & Competition are peer reviewed and anonymously judged by a grand jury panel of prominent academics, design professionals and media members following strict evaluation guidelines. Laureates of the A' Design Award & Competition are granted a series of PR, Marketing and Publicity services such as inclusion in Salone del Designer and Design Interviews platforms to celebrate the status of winning the accolades. Laureates are also invited to join the Gala-Night and Award Ceremony in Italy. Award winning works are also exhibited internationally, and their descriptions are translated to all major languages.
About A' Packaging Design Award
The A' Packaging Design Award, organized under the A' Design Awards aims to push package designers, brands, and product manufacturers worldwide to develop sustainable, hassle-free, reusable, recycle and reduced-material package designs that benefit society by waste reduction and increased ergonomics. The A' Design Awards are organized annually in all creative design disciplines to create a global understanding and appreciation for good design. Learn more about the A' Design Awards at http://www.whatisadesigncompetition.com