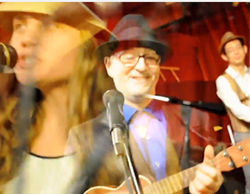 "Wow! What a wonderful, fun foot stomping chorus..Lighta, lighta, lighta the lights tonight!"- Allie from DC
New York, NY (PRWEB) December 01, 2014
"We wanted to capture that classic holiday joy and bounce – but make it inclusive, and give it our own spin," said Rabbi Blane, founder of the Sim Shalom Online Synagogue. Watch and listen to the video at http://youtu.be/uLId4bZVjB8– and it's apparent they've succeeded. "Gonna Light the Lights Tonight" seamlessly melds Hannukah, Kwanza, and Christmas into a melodic, welcoming home for celebrants of every faith.
The quintet features Rabbi Blane on the ukulele and lead vocals, Saul Rubin on lead guitar, Yoshi Waki on bass, Carol Sudhalter on baritone sax, Frank Levitano on drums, and Kathleen Doran and Marion Cowlings on back-up vocals. The videographer was Phoenix Flixx.
Together, they lend "Gonna Light the Lights Tonight" a rhythm that effortlessly interweaves R&R and jazz, the sacred, secular, and the familial. The visual montage portrays the multiplicity of faces and faiths that make the holidays in New York such a vibrant, magnetic season. And as with any well-wrought musical number, the song's chorus is indelible.
"I've been blessed with two callings – my faith and my music," said Rabbi Blane. "When I can combine and bring them to fruition in a way that inspires those around me, I'm thrilled. It demonstrates that spiritual faith isn't all somber, and certainly not cheerless. Faith sometimes has a certain "swing," if you will. It can help carry you through a world with plenty of inherent bumps and obstacles."
"To that end, I'd like to think that "Gonna Light the Lights Tonight" has a message that both embodies and transcends the holidays."
The video has exceeded over 3,000 views on YouTube, and promises to attract a wide audience as the holiday season reaches full force.
ABOUT SIM SHALOM AND JSLI
Sim Shalom is an interactive online Jewish Universalist synagogue which is liberal in thought and traditional in liturgy. Created in 2009 by Rabbi Steven Blane on Manhattan's Upper West Side, Sim Shalom offers a means of connecting the unconnected. Rabbi Blane leads accessible and short Kabbalt Shabbat services every Friday night using a virtual interface and additionally Sim Shalom provides online education programs, Jazz concerts, conversion and life-cycle ceremonies along with weeknight services at 7:00PM EST led by Rabbis and students of this online community.
Rabbi Blane is also the founder and director of the Jewish Spiritual Leader's Institute,
http://www.jsli.net, a rabbinical semicha program for professionals in the Jewish world.
Sim Shalom, a non profit 501 © (3) tax-exempt organization, nurtures a Jewish connection through its mission of innovative services, creative education and dynamic outreach to the global community. For more information visit http://www.simshalom.com or call 201-338-0165.