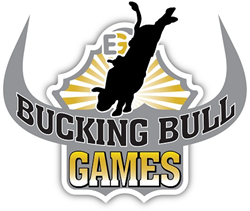 With over 100 bulls, competing in five events, bull owners will be arriving from all over the world in anticipation of winning $500,000.
Las Vegas, NV (PRWEB) December 01, 2014
Exclusive Genetics, a leader in the bucking bull industry returns to Las Vegas, Nevada for the fourth consecutive year to feature its $1.5 million Bucking Bull Games. The Games will be held December 4-13 parallel to the Wrangler National Finals Rodeo, when over 250,000 fans converge on Las Vegas for the "world series" of rodeo.
Bucking Bull Games will present, over the course of 10 days, five bucking bull events with a record high $1.5 million in payouts. The final day of the Games on Saturday, December 13 will feature the highest payout for any one day bucking bull event in the history of the sport at over $1.2 million, with championships to be determined in three categories; the Million Dollar Bucking Bull Championship Final Round, the Second Chance Championship, and the Finale of the Bull and Rider Tournament.
Bucking Bull Games, sponsored by Purina Animal Nutrition LLC Sam's Town Hotel and Gambling Hall will be held both at Cowboy Marketplace in the Mandalay Bay Hotel and Casino, as well as the historic rodeo arena at Horseman's Park near Sam's Town Hotel and Gambling Hall.
Exclusive Genetics and Bucking Bull Games CEO Billy Jaynes says that Bucking Bull Games has become the go to daytime event for rodeo fans who visit Las Vegas to attend the National Finals Rodeo in the evening. With the growth of the event Jaynes has witnessed an increased interest in participation from the best of the best, "Bucking bull fans are in for a treat, as they will have an opportunity to root for the top-ranked champion riders." Also known as the Sam's Town Superstars, Jaynes added, "This cowboy posse includes PBR World Champion Kody Lostroh, as well as PBR World Finalists Kasey Hayes, Cody Campbell and L.J. Jenkins."
Jaynes also spoke of the fierce competition that will occur among the behemoth animal athletes, "With over 100 bulls, including the Purina Million Dollar Bulls, competing in five events, bull owners will be arriving from all over the world in anticipation of winning the Buckle and the big bucks." Owners in contention for the top prize of $500,000 include a Texas businessman; a New Mexico couple and an all-female syndicate with partners around the country.
This year a special campaign called Buck Autism Weekend will be included in the activities surrounding Bucking Bull Games. Sponsored by Branded Cities Network, the campaign aims to raise funds and awareness to support families who have children diagnosed with autism. Live and silent auctions will offer experiential opportunities for fans to bid on and a Public Service Announcement will be featured on the Harmon Corner Digital Billboard to raise awareness about the events in support of the National Autism Association. To support the Buck Autism campaign visit BuckAutism.com.
Bucking Bull Games will be open free to the public. For performance schedules and venues or for more information about Exclusive Genetics Bucking Bull Games visit BuckingBullGames.com.
About Bucking Bull Games
Exclusive Genetics Bucking Bull Games presents six major events during the Wrangler National Finals Rodeo in Las Vegas, NV that offer industry leading payouts of over $1,500,000. The competitions include the two-year-old Million Dollar Bucking Bull Championship and Second Chance Championship, yearling Gold Buckle Challenge and Million Dollar Bucking Bull and Rider Tournament for three-, four- and five-year-olds. Visit BuckingBullGames.com.
About Purina Animal Nutrition LLC
Purina Animal Nutrition LLC (purinamills.com) is a national organization serving producers, animal owners and their families through more than 4,700 local cooperatives, independent dealers and other large retailers throughout the United States. With an uncompromising commitment to animal excellence, Purina Animal Nutrition conducts industry-leading R&D initiatives that create and sustain a valued portfolio of complete feeds, supplements, premixes, ingredients and specialty technologies for the livestock and lifestyle animal markets. Species served by Purina Animal Nutrition include both large and small animals, including cattle, horses, swine, chickens, hamsters, gerbils and rabbits. Headquartered in Shoreview, Minn., Purina Animal Nutrition LLC is a wholly owned subsidiary of Land O'Lakes, Inc.
About Sam's Town Hotel and Gambling Hall
Located at 5111 Boulder Highway, Sam's Town offers more than eight restaurants, an 18-screen movie theater, 56-lane bowling center, a 12,000 square foot entertainment center and the beautiful indoor atrium Mystic Falls Park. The property has a 133,000-square foot casino with 29 table games, more than 2,000 slot and video poker machines, a bingo parlor, keno lounge, poker room and race and sports book. For more information visit SamsTownLV.com, on Facebook (facebook.com/samstownlv), and Twitter (@samstownlv). Headquartered in Las Vegas, Boyd Gaming is a leading diversified owner and operator of 22 gaming entertainment properties located in Nevada, Illinois, Indiana, Iowa, Kansas, Louisiana, Mississippi and New Jersey. Additional news and information on Boyd Gaming can be found at BoydGaming.com. Boyd Gaming and Sam's Town press releases are available at BoydGaming.mediaroom.com.
About Horseman's Park
Managed by Equine Event Management LLC, Horseman's Park is a full service equestrian venue only minutes from the fabulous Las Vegas Strip. Amenities at this newly renovated 30 acre facility include a 1300-seat Main Arena, a 500-seat Flamingo Arena, a cutting pen, practice pens and 320 barn stalls. Equine Event Management LLC, headed by business partners Roe DeLecce and Mary Gipaya, specializes in total event coordination, making Horseman's Park a one stop resource for putting on a successful event. Contact Equine Event Management/Horseman's Park at 702-455-8206 EquineEventLV.com or find us on Facebook @ Equine Event Management
About Branded Cities Network
Branded Cities Network, a subsidiary of EL Media, is a fully integrated, digital, spectacular signage media company. BCN has an exclusive strategic alliance with Panasonic of North America whereby BCN is the exclusive digital developer and sales agent and Panasonic is the exclusive digital provider for EL Media. BCN's current U.S. platform includes Los Angeles, Las Vegas, Phoenix, Denver and New York. EL Media's current platform, through its Canadian joint venture with Clear Channel Outdoor, includes Toronto, Vancouver, Montreal, Ottawa, Edmonton and Winnipeg. BCN is owned by The Ellman Companies and Cantor Fitzgerald. Ellman is a privately-owned media, real estate and investments company founded in 1972 with diverse ownership interests throughout the U.S., Canada and the Caribbean. For more information visit: BrandedCities.com or EllmanCo.com. Cantor Fitzgerald is a preeminent capital markets investment bank serving more than 5,000 institutional clients around the world, recognized for its strengths in fixed income and equity capital markets, investment banking services, prime brokerage and commercial real estate financing.
About Buck Autism
"Buck Autism" founded by Billy Jaynes, CEO of Exclusive Genetics, stems from how one person's life changed dramatically after getting involved in the bucking bull world. Wyoming resident, Jayci Mead, a 21-year-old woman who has autism, is involved in bull ownership through Exclusive Genetics. Her interest in bucking bulls has helped her communicate and express herself in ways that she was unable to do so prior to her connection to bull ownership. To learn more or to see Jayci's complete story and video at BuckAutism.com
About National Autism Association
NAA is the leading voice on issues related to autism safety and crisis prevention. The organization's mission is to respond to the most urgent needs of the autism community, providing real help and hope so that all affected can reach their full potential. Visit NationalAutismAssociation.org.
###