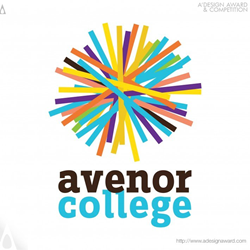 Como, Italy (PRWEB) November 30, 2014
A' Design Award and Competition is pleased to announce that the brand identity design project "Avenor College" by Storience has been awarded with a prestigious Golden A' Design Award in International Graphics and Visual Communication Design Competition.
More on Avenor College Brand Identity
Storience, the creative team behind the awarded brand identity design "Avenor College" said, "Little London School grew up and felt the need to reflect that into a new identity. Their rebranding produced a new name and logo that appealed to students, parents, and teachers alike. Avenor means a road maker or a future maker, and the star-shaped logo represents the school community, with different individualities but sharing focus and goals. Adriana and Stefan Liute with Maria Dumitriu audited the brand and created its strategy, name, and slogan. Andrei Robu designed the new visual identity and its applications, while Alexandru Gugurel, Doru Sana and Stefan Gugurel designed the web site."
To learn more visit: https://competition.adesignaward.com/design.php?ID=30186
Design Team for Avenor College
"Avenor College" brand identity design project was realized by Adriana Liute, Stefan Liute, Maria Dumitriu, Andrei Robu, Alexandru Gugurel, Doru Sana and Stefan Gugurel.
The Golden A' Design Award
The Golden A' Design Award is a prestigious award given to top 3% percentile designs that has attained an exemplary level of perfection in design. Entries to the A' Design Award and Competition are peer reviewed and anonymously judged by an expert jury panel of prominent academics, press members and professional designers. Laureates of the A' Design Awards are eligible to receive the A' Design Prize which includes a series of PR and publicity services in addition to the award trophy, yearbook, design excellence certificate, international exhibitions and the award logo. Awarded works are further exhibited at MOOD Museum of Design, and award winners get included in the World Design Rankings.
About A' Design Award and Competitions
Since 2009, the A' International Design Award and Competition has been featuring and highlighting the very best design works in order to create a global awareness for good design practices and principles worldwide. The ultimate aim of the A' Design Accolade is to push designers, product manufacturers and brands worldwide to create superior products or services that benefit society. Learn more about the A' Design Contest at http://www.whatisadesigncompetition.com