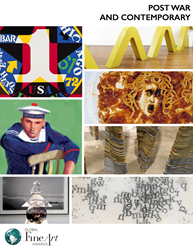 "I had the great privilege and pleasure to work directly with David and his curator and manager Gregory Evans, to mount the largest exhibition in the history of the de Young" Richard Benefield, deputy director of the Fine Arts Museums of San Francisco
Miami Beach, FL (PRWEB) December 02, 2014
After extensive research and deliberation of over 1,000 exhibitions and installations in more than 200 museums and galleries, the GFAA jury has selected five winners for the 2014 Global Fine Art Awards (GFAA). The judges' voting was extremely close in both Contemporary and Modern categories, which drew from a very large number of nominated exhibitions. As a result, the GFAA also officially recognizes two additional exhibitions with Honorable Mention.
The sixth and final award, "Youniversal," was determined by public voting, and all nominees were eligible to win. Thousands of votes were cast during the voting period, from October 16 through November 15, 2014.
Winners, nominees and guests, patrons and sponsors of the GFAA celebrated the awards at a private event and ceremony this evening hosted by the GFAA organizers and sponsors at Villa Azur in Miami Beach, FL.
In learning that the Museum of Fine Arts Boston's exhibition created from her collection (CIFO Cisneros Fontanals Art Foundation) won the award for best Contemporary and Post-War art, Miami-based Ella Fontanals Cisneros says, "I am proud to receive the Global Fine Art Award for Permission to be Global and would like to thank the Jury and organizers of this memorable event".
Receiving both Honorable Mention for the Contemporary Art Award, and the YOUniversal Award for David Hockney: A Bigger Exhibition, Richard Benefield, Deputy Director of the Fine Arts Museums of San Francisco says, "The Fine Arts Museums of San Francisco are proud to share this award with David Hockney and Gregory Evans and the many, many people who contributed in so many ways to make the exhibition a reality. I, personally, want to thank the President of our Board of Trustees, Diane B. Wilsey, whose idea it was to have a David Hockney show in the first place, and who then encouraged me to make the show really great. I think we succeeded."
The GFAA judges Dean Phelus, Peter Trippi and Cathy Leff, selected the winners from 25 finalists in the following categories: Contemporary and Post-War Art; Impressionist and Modern Art; Renaissance, Baroque, Old Masters and Dynasties; Ancient Art; Public or Outdoor Installation or Exhibition. All five juried winners and the sixth award winner, YOUniveral, receive a bronze trophy-sculpture created by UNESCO artist for Peace, Hedva Ser.
THE 2014 GFAA WINNERS
BEST Contemporary or Post-War exhibition:
Permission to be Global/Practicas Globales: Ella Fontanals-Cisneros Collection, Museum of Fine Art, Boston
BEST Impressionist or Modern Art exhibition:
Paris 1900: The City of Entertainment, Le Petit Palais, Paris, France
BEST Renaissance, Baroque, Old Masters or Dynasties exhibition:
Treasures from Korea: Arts and Culture of the Joseon Dynasty, 1392-1910, Philadelphia Museum of Art and National Museum of Korea
BEST Ancient Art exhibition:
Pompeii: Life on the Volcano, Kunsthalle, Munich, Germany
BEST Public or Outdoor Installation:
Kara Walker: A Subtlety, or the Marvelous Sugar Baby, Creative Time/Domino Sugar Factory, NYC
YOUniversal Award:
David Hockney: A Bigger Exhibition, de Young, Fine Arts Museums, San Francisco
HONORABLE MENTION Contemporary or Post-War exhibition:
David Hockney: A Bigger Exhibition, de Young, Fine Arts Museums, San Francisco
HONORABLE MENTION Impressionist or Modern Art exhibition:
The Scandalous Art of James Ensor, Getty Museum, Los Angeles
About the GFAA Program:
The GFAA program honors innovation in design, historical context, educational value, and public appeal. The program is instrumental to develop interest and passion for fine art, and further its educational role in society.
This award program recognizes and rewards the best fine art exhibitions and installations of the past year (Aug 1, 2013 – Jul 31, 2014). Five awards are juried, and a sixth award, "Youniversal," is determined by public voting. The program consists of a digital platform, with social media and website (http://www.globalfineartawards.org), and a live award ceremony in Miami on Monday, December 1, 2014.
The 62 nominees in 5 categories include exhibitions from 18 countries, 36 cities and 5 continents. Of the top 100 art museums visited in the world, 26 are represented in the list of nominees, including 11 of the top 20 (as appeared in the April 2014 survey by The Art Newspaper).
#####
FOR MORE INFORMATION:
Judy Holm, Founder and Co-Producer GFAA
Aspirations Marketing and Public Relations
+1.917.589.0247 [email protected]
http://www.globalfineartawards.org/