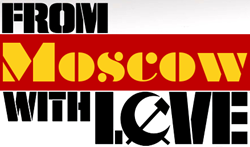 ...guests will find themselves immersed in an era of Swank Spies, Mad Men Capitalists, and Seductive Communist Sympathizers...
(PRWEB) November 29, 2014
Aces and Operatives (Aces & Operatives), the world's only James Bond 007 themed role-play group, and Moscow 57, the Russian Central Asian restaurant and live-music venue on New York City's Lower East Side, have announced a new co-production. On December 13, 2014, they will present Danger Lair: From Moscow With Love: an immersive, transformative, Cold War, spy vs. spy role-play and musical experience that will transport guests back to a romantic, bygone era of espionage, music, and international mystery.
Danger Lair is Aces & Operatives' signature theatrical event. The magic of Danger Lair is that it's designed so everyone can be involved in the social adventure. Participation is quite simple. Upon arrival guests are handed a secret envelope that contains information about their character and secret team. Guests will then be compelled to interact with others in the hopes of finding the fellow team members so they can save the world from the extremist elements within the venue. In the end, each decision made by every attendee will shape the course of the evening's storyline, which will result in a climatic and spontaneous conclusion.
Danger Lair can be best described as part costumed cabaret, part murder mystery, and part interactive social theater. From Moscow With Love will present guests with a classic 1960's Cold War theme, when the world was a simpler place, but who could be trusted was far more complicated.
"The beauty of Aces & Operatives' collaboration with Moscow 57 is theme. Unlike a traditional theater show where attendees sit in darkened seats and are passively focused on a stage, Moscow 57 will be transformed into a "time machine" where guests will find themselves immersed in an era of Swank Spies, Mad Men Capitalists, and Seductive Communist Sympathizers, all of whom will be vying for attention," said Moscow 57 owner Ellen Kaye, who will be performing that evening. Moscow 57 will provide the look, feel, sounds, and tastes of the period. Aces & Operatives will provide the stories, special characters, and social motivations.
With a cast that mingles side-by-side guests, Russian and American musical artists including Cleve Douglass, Grace Garland and Cici James, Yuri Lemshev, Katya Lapaeva, Dmitry and Maria and Ellen Kaye with the M57 Band, food that captures the tastes of 'Mother Russia', plus the unique social game designs of the Aces & Operatives team,
From Moscow With Love will be a unique event, where the audience can take a journey back to the timeless years of Sean Connery's James Bond, Mad Men, and the hip and dapper spies of the 1960's.
Moscow 57 is located at 168 ½ Delancey Street, New York City (212) 260-5775. Tickets are $25.00 and can be purchased at http://www.acesandops.com/tickets/
ABOUT ACES AND OPERATIVES
Aces & Operatives (also known as Aces & Ops) is an espionage-themed theatrical role-play experience. They produce two events that cater to a diverse following:
Danger Lair is an immersive and transformative, theatrical, spy vs. spy social-game event that shatters the line between voyeur and performer. It features various themes and is suited for both creative nightlife enthusiasts and role-players.
Vesper Room is the only 007-themed live action role-play (LARP) group operating in the world. It's free-form and allows Larpers to delve into an alternative realm of international intrigue.
Their events use a unique recipe: 3 measures espionage "red rope role-play" adventure, 1 measure interactive theatre, and 1/2 measure card gaming... shaken, not stirred. Experience in acting, role-play, or cards is absolutely not required (beginners welcome). Our events are designed so everyone can participate in the adventure. The Aces and Operatives team is Julien Viceroy, Producer, Writer, Casting, Game Designer, Game Master, and Co-Master of Ceremonies and Christopher Batarlis, Director, Head Game Designer, Lead Game Master, and Co-Master of Ceremonies (Founder of Everything Epic gaming company).
ABOUT MOSCOW 57
Moscow 57, the hospitality and entertainment company, was launched several years ago by partners Ellen Kaye, Seth Goldman and Ethan Fein. For the past two years, the company has been hosting its M57 Urban Salons, evenings of music, food and digital visual art displays, in Harlem; Washington Heights; Chelsea; the Upper East Side; the East Village; Governors Island; New Milford, Connecticut; and New Orleans. Moscow 57 has made New Orleans a home away from home, with regular forays into that city's world-renowned culture of Southern hospitality, regional cuisine, and world-class entertainment.
After performing at and co-producing events with New York's Corcho Wine Room, as well as celebrating Latin American culture in New Orleans, this cosmopolitan attitude is being brought to Moscow 57's permanent home on New York City's Lower East Side every night.
Moscow 57 Entertaining, created in partnership with Ethan Fein, is developing projects for film, television and theater. Its music company produces podcasts, live performances, recordings and videos. Moscow 57's first CD releases have already garnered national radio airplay, and the company's videos can be seen on the Moscow57Entertaining YouTube channel.