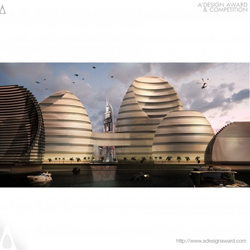 Como, Italy (PRWEB) November 30, 2014
A' Design Award & Competition is pleased to announce that the architectural concept design "Organic Cities" by Luca Curci has been awarded with a Golden A' Design Award in Architecture, Building and Structure Design Competition.
About "Organic Cities"
Luca Curci, the creative mind behind the award winning architectural work "Organic Cities" said "Luca Curci architects studio has designed a landmark for the United Arab Emirates skyline with an innovative project based on the concept of "Organic Cities". The organic buildings become part of a new megalopolis, merging and mixing residential elements with business divisions, shopping life with wellness areas, cultural places with social life. The aim of the project is to create a common place where people can live, meet, learn, work, socialize and create." Learn more about this architectural project at: https://competition.adesignaward.com/design.php?ID=30226
Project Members for Organic Cities
Organic Cities was designed by Studio Luca Curci architects: Design Architect Arch. Luca Curci, Collaborator Arch. Andrea Colangiuli, Collaborator Arch. Nicola Boccadoro, Collaborator Designer Wafa Chawachi, and Project Coordinator Trabelsi Abdelouahab
The Golden A' Design Award
The Golden A' Design Award is a prestigious award given to top 3% percentile designs that has attained an exemplary level of greatness in design. Entries to the A' Design Award & Competition are peer reviewed and anonymously voted by an expert jury panel of press members, professional architects and experienced academics. Entries are voted on predetermined evaluation criteria. Laureates of the A' Design Award & Competition are granted a series of PR and publicity services to celebrate the status of winning the accolades. The coveted A' Design Prize includes access to Design Press Kit platform, as well as exclusive invitations to Prime Clubs such as the ICCI - The International Council of Creative Industries. Award winners are further invited to attend the black-tie award ceremony in Italy to collect their trophies, yearbooks and design excellence certificates.
About A' Design Award and Competition
A' Design Award and Competition was established to create a global awareness for good design practices and principles, in order to push designers, architects and companies worldwide to develop superior products and projects that benefit society. The A' Design Awards highlights and promotes excellent design works to create incentives for designers to come up with better designs. To learn more about the design competition, please visit: http://www.whatisadesignaward.com