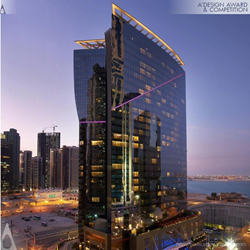 Como, Italy (PRWEB) November 30, 2014
A' Design Award and Competition is pleased to announce that the architectural design work "W Doha" by Marwan Zgheib has been awarded a Golden A' Design Award in Architecture, Building and Structure Design Competition.
Insights on W Doha
Marwan Zgheib, the project leader of the awarded architectural design work "W Doha" says "W Doha Hotel & Residences is located in the heart of Doha, with lifestyle driven design & high-energy interiors.The client's and W brand's wish was to build a hotel distinctively inspired by the city of Doha with strong cutting-edge design. The proposed design was simple yet modern & contemporary: an innovative & dramatically sculpted volume efficient in all ways. Described as 'a modern sanctuary above the city', the hotel is extroverted in its strong forms, yet introverted in the sense that the exterior gives little away about what is happening inside." Learn more about this design: https://competition.adesignaward.com/design.php?ID=30273
Team Members for W Doha Hotel & Residences
W Doha Hotel & Residences was designed by Marwan Zgheib - MZ Architects.
The Golden A' Design Award
The Golden A' Design Award is a prestigious award given to top 3% percentile designs that has accomplished an exemplary level of perfection in design. Entries to the A' Design Award and Competition are peer reviewed and anonymously judged by an expert jury of professional architects, press members and academics following rigorous evaluation guidelines and predetermined evaluation criteria. Laureates of the A' Architectural Design Awards are entitled to receive the A' Design Prize which includes a series of PR and publicity tools in addition to the award trophy, yearbook, certificate, logo licensing and posters. Award winners are included in the best designers platform as well as have their projects exhibited in many countries worldwide. Awarded works are translated to all languages to ensure a true international reach. Award winning works can further be seen online at DM Design Magazine.
About A' Design Award and Competition
A' Design Award and Competition aims to push designers, architects and project developers worldwide to come up with superior projects that benefit society. The A' Design Awards has a philanthropic goal to support designers, artists and architects who demonstrate excellent design quality in their work. The very best design projects are promoted and highlighted worldwide to achieve a global appreciation and understanding of good design. Learn more about the A' Design Prize by visiting: http://www.whatisadesignaward.com