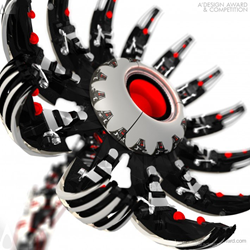 Como, Italy (PRWEB) November 30, 2014
A' Design Award and Competition is pleased to announce that the audiovisual installation titled "Vestibule (Circuit II)" by Eric Schockmel has been declared as a winner of the Golden A' Design Award in Computer Graphics and 3D Model Design Competition.
Insights on VESTIBULE (Circuit II)
The Vestibule (Circuit II) is an audiovisual Installation on two 55-inch screens, four 24-inch screens. Schockmel's installation blends cold mechanical complexity from the realm of science fiction with ideas of synthetic biology and the ancient tribal quest for transcendence. He translates political, religious and ecological reflections into a digital 3D world that he crafts with more technical sophistication each time. A universe that is inhabited by unseen entities of artificial intelligence and primal worship." Learn more about this project and access its high-resolution images at: https://competition.adesignaward.com/design.php?ID=30338
Team Members for Vestibule (Circuit II)
Vestibule (Circuit II) was realized by Eric Schockmel and Gallery Bergman Berglind Luxembourg
The Golden A' Design Award
The Golden A' Design Award is a prestigious award given to top 3% percentile designs that has attained an exemplary level of perfection in design. Entries to the A' Computer Graphics and 3D Model Design Award are evaluated by an expert jury panel of press members, design professionals as well as academics following sting evaluation criteria and anonymous voting process. Laureates of the Computer Graphics and 3D Model Design Award are eligible to receive the A' Design Prize which includes a series of PR and publicity services to celebrate the status of winning the accolades. Award winners are able to access and make use of design services and platforms such as Buy Sell Design, Design Mega Store, Salone del Designer, as well as get coverage through extensive press partners and IDNN International Design News Network. Award winning designers are also invited to join the award ceremony in Italy to collect their certificates, yearbooks and trophies as well as to visit the exhibition.
About International A' Design Award & Competition
The A' Design Award & Competition was established to recognize and promote the very best designs in all countries and in all disciplines to create a global appreciation and awareness for good design practices and principles. The ultimate aim of the A' Design Competition is to push designers, artists and architects worldwide to create superior products and projects that benefit and advance society. Learn more about the A' International Design Awards at http://www.designaward.com