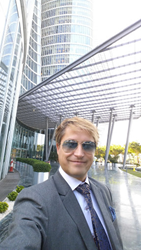 Chicago, IL (PRWEB) November 30, 2014
Ahu Dhabi Investment Authority's real estate investments are spread around the globe. David Drake says, "ADIA is a key purchaser of institutional real estate in the U.S. using sub-entities. It has invested across real estate asset types in the country, reaching up to 10 percent of its capital." Drake provided insight on new opportunities upcoming in the U.S, including real estate crowdfunding sites such as American Homeowner Preservation ("AHP").
Drake says, "Four years ago, we did not expect unemployment problem in the U.S. and we were caught flat footed. Last Friday, November 21st, we never expected the lowering of interest rates by China. This surprising move had an overall positive effect on the exchanges globally." Drake further adds, "Yet despite recent developments, the President of the European Central Bank (ECB) Mario Draghi is pushing for anti-inflation measures and government-backed bonds while Europe faces an 11.5 percent unemployment."
Drake is the founder and chairman of Victoria Global, his holding company with three major divisions. The Finance Group consists of LDJ Capital, the private equity advisory firm; Victoria Partners, a family office advisory firm based in London with offices in Dubai, Rome and Singapore; as well as ConnectInvest, its business intelligence unit.
Recently, Drake founded the Drake Hospitality Group. It plans to have five star hotels in Fort Lauderdale, London, Singapore and more within the next five years with its flagship in New York City.
Drake re-engineered The Soho Loft, which he owned since 2001 as a venue for talks and events with VIP dinners being organized almost nightly with its own chef and serving the financial sector and other NY communities, to what it is now The Soho Loft Media Group which organizes and supports more than 200 global financial conferences yearly since 2011. As early as 2013, The Soho Loft initiated the discussions on real estate crowdfunding in the U.S. RealCap Chicago is one such conference that provides entrepreneurs the how to's in raising capital online. RealCap Chicago series is being conducted in collaboration with AHP, one of the leading real estate crowdfunding platforms in the U.S.
Jorge Newbery, AHP's founder and CEO, supported the RealCap series as diamond sponsor this past September, as well as the upcoming edition on April 16, 2015. The conference's objective is to teach the participants how to get real estate projects funded online. The event will show how to raise debt and equity in an online platform to purchase commercial or multifamily properties, construct fix & flip homes, or get your project off the ground. Newbery says, "These conferences provide cutting edge educational opportunities and great networking."
Drake is continuing his travels every few days to a different city and country, spreading his wealth of knowledge about investment opportunities such as AHP. He meets up with policy makers, regulators and investment groups and interviews them. He works across the ecosystem that finance small and medium enterprises (SMEs). These financiers include family offices such as the Rockefellers, venture capitalists, CEOs of crowdfunding platforms, and business angels. He is a member of the Angel Capital Association (ACA) and the European Business Angels NetworK (EBAN). He is working with Arabreneur to launch the Middle East Business Angels Network (MBAN) in Dubai next year. MBAN is being hosted by EBAN for six months in Brussels, Belgium. MBAN would be the first to support the ecosystems in the region.
Drake will also bring best practices of global startups and enterprises to the small and medium enterprises (SMEs) in the UAE region through his publications, financial advisory firm and brand marketing strategy firm. The region has the Flat6Labs accelerator in Jeddah that is expanding to Abu Dhabi last week. Incubators and accelerators are fascinating topics as he works with angel networks globally and helps launch MBAN for the region.
Watch for more The Soho Loft Conferences happening across the country and around the world, the next one may be in your city. To get VIP access to major conferences that intersect finance with key industries and for other exciting perks and benefits, consider the annual membership programs at http://www.thesoholoft.com/vipmembers.
MEDIA CONTACTS:
THE SOHO LOFT Media Group (http://www.thesoholoft.com) is a global financial media company with 3 divisions:
TIMES IMPACT PUBLICATIONS (which includes http://www.TimesRealtyNews.com) produces relevant content on investing and entrepreneurship that are published and syndicated in 100+ leading online publications and growing.
THE SOHO LOFT CONFERENCES (thesoholoft.com/upcoming-conferences/) organizes up to 200+ investor-focused global summits, talks and events annually.
VICTORIA GLOBAL (victoriaglobal.co/) Corporate Communications specializes in client Investor Relations, Public Relations, Branding and Social Media Marketing.
The Soho Loft Media Group is your global partner for your investment and business strategies.
For inquiries, contact info(at)thesoholoft(dot)com or call 212.845.9652
American Homeowner Preservation is a socially responsible investment fund manager which empowers accredited investors to purchase equity in pools of distressed mortgages and earn returns of 9-12%. For further information or inquiries please visit ahpinvest.com or call 800-555-1055.