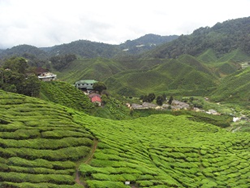 There will be vouchers and discount coupons for restaurants and eateries in Cameron Highlands.
Cameron Highlands, Pahang (PRWEB) November 30, 2014
This includes all the top attractions in Cameron Highlands, accommodation and hotel options, food and restaurants and all other related guides. Besides that, Cameron.com.my is the online community for the people there with information like happenings, events, current issues and such.
To continue offering the most relevant information to tourists and to create more awareness among them about the attractions in Cameron Highlands, Cameron.com.my will be embarking into a revolutionary expansion exercise. This will come in the form of kiosks around Cameron Highlands which will surely take the tourism industry by storm and enhance Cameron Highlands as one of the top destinations in the world today.
This exercise will see Cameron.com.my placing information kiosks in the top attractions around Cameron Highlands. The main aim here is to cultivate more interest in the highland town. These kiosks will be placed in the high traffic areas of Cameron Highlands to spread more awareness about what Cameron Highlands has to offer.
Those accessing the kiosks will be able to enjoy exclusive benefits and privileges. This includes special discounts for those who register with the kiosks for travel packages. They can browse through the many travel packages in Cameron Highlands including day trips around the towns of Tanah Rata and Brinchange or trekking into the waterfalls.
There will be vouchers and discount coupons for restaurants and eateries in Cameron Highlands. Those accessing the kiosks can download the vouchers and then use them during their visit. This will give them the best platform to learn about the best foods in Cameron Highlands, the best steamboat restaurants and where to find the best halal food, among others.
For those who are planning to stay in the hotels or apartments around Cameron Highlands, there will be exclusive vouchers as well. The kiosks will provide information like the facilities and services that are available in the respective towns and their rates. Bookings can be made through the kiosks and confirmation will be provided instantly. To encourage more people to use these services, exclusive discounts and special rates will be provided.
Meanwhile, there will be a special discount for travel packages among those who wish to travel to Cameron Highlands directly from Langkawi. These kiosks are specifically designed to be easy to use so that tourists can find the information they need without any hassle. Besides food, attractions and accommodation, these kiosks are specially designed to offer transportation information and services as well.
Airport arrangements can be made through these kiosks. For those who are flying in from the major towns and cities in Peninsular Malaysia, airport pickups and connecting services can be requested and arranged. On top of that, inter-city transportation information is provided here as well. This can be an extremely useful application that helps to save time and cost in terms of planning when going about in the country.