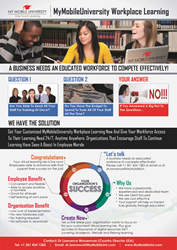 Individuals will achieve healthier lifestyles when prevention and wellness programs are accessible and available in their workplace, through their health provider, and in their communities.
Washington, D.C. USA (PRWEB) November 30, 2014
SSM Academy recognized the need to proliferate and challenge technical professionals and equipping them with the knowledge and skills needed to make students a successful entry into the technological arena. Also, bring out innovative skills to benefit society, the nation and the world at large.
The Academy recognizing the pressing need for human capital education across all sectors of the economy in India, took a step to provide a 24/7 Knowledge Resource Centre with its recent Memorandum of Understanding with My Mobile University to power human capital development through education.
We are excited about this collaboration as SSM International Academy and My Mobile University will provide scalable, online training solutions on the go that will enhance learning across and beyond academic disciplines in areas such as soft-skills development, entrepreneurial skills and digital technologies, said Wemel Cumavoo, Co-founder and CEO at MyMobileUniversity.
Business needs an educated workforce to compete effectively in today's competitive global economy. Today's employees require specialized knowledge and skills to adapt with fast paced changes in the workplace and with SSM International Academy's Knowledge Resource Centre, students have access to learning on the go that is crucial to their success, said Dr Lawrence Wasserman, Vice President of Strategic Alliance at MyMobileUniversity.
MyMobileUniversity is a global initiative by LTT Global a pioneer in mobile learning to impact lives through innovative learning technologies that provides access to digital resources to promote lifelong learning, and life skills for young people and adults from anywhere at any and on any device, said 'Cavalier'Dr.M.S.Mathivanan, Chairman of the SSM International Academy.
MyMobileUni provides holistic learning platform and upwards of 20 plus channels, ever expanding and our programs range from: University and Professional Courses to lifelong Learning, How-To Guide, Video Talks, Study Tools, E-Books, Audio Books, News, Motivation, and information resources. New channels introduced with the recent first year celebrations include, languages, math and science, and wellness and fitness.
MyMobileUni has a passionate vision to help individuals improve their livelihood and give a positive impact to their workplace, social, and community circles by making learning accessible to everyone.
The Company's mission is "education for all 2025"and open to new collaborations with strategic partners, outreach or content or learning partners and/or media partners who are keen to come on board and support our vision noted Dr. Lawrence Wasserman.
For More Information Please Contact:
Corporate HQ
Rani Wemel,
Co-Founder/COO
Email: founders@MyMobileUni.com
Dr Lawrence Wasserman,
Vice President, Strategic Alliances
dr.lawrence(at)MyMobileUni(dot)com | wfuture(at)hotmail(dot)com
Tel (O): +1 301.424.1383 | Fax: +1 301.424 1383 | http://www.LTTCOM.com |
Cell +1 240.462.3471 | Skype: galaxy139 |Twitter: FORTECH139|