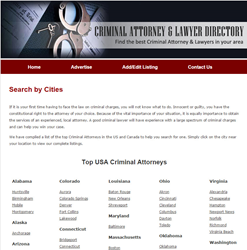 CriminalAttorneyDir.com takes a "less is more" approach by providing a clean, easy to navigate website that's not cluttered with ads or lists hundreds of attorneys in each city
Seattle, WA (PRWEB) November 30, 2014
A new criminal defense attorney directory was recently launched at http://www.criminalattorneydir.com that seeks to help people accused of a crime pick a defense lawyer.
Choosing a criminal defense lawyer can be a challenging task, as there's often not much time to make the choice. Many people accused of committing a crime believe that they are facing a simple charge that does not require the services of a lawyer. Others believe they don't need a lawyer simply because they are innocent. Unfortunately, even if people are completely innocent but the circumstances of the crime in question place then as a suspect they are in danger.
A criminal conviction is serious and even if no jail time is served, having a criminal record can have a long lasting impact on one's life. Everything from renting an apartment to landing a job becomes harder if you are convicted of a crime and have a criminal record.
Having the case handled by a reputable criminal defense attorney at the outset gives people the best chance of a positive outcome in their case. People face the risk of conviction or even if convicted, they might face stiffer penalties if they fail to obtain a top-notch defense attorney who knows how to best plead their case before the court and jury if the case goes to trial.
Consulting with a criminal attorney should be one of the first things people do if they are arrested or a under investigation for a crime.
CriminalAttorneyDir.com helps people facing criminal charges, by giving them a short list of criminal defense law firms in their city. Unlike many law farm directories, CriminalAttorneyDir.com takes a "less is more" approach by providing a clean, easy to navigate website that's not cluttered with ads or lists hundreds of attorneys in each city.
At CriminalAttorneyDir.com, visitors only have to click the name of a city, which will take them to a short list of criminal lawyers in their area, the firm's description, location, phone number, and website url. Criminal defense law firms may also add their listing to the directory for a small annual fee.
CriminalAttorneyDir.com is a part of the portfolio of criminal defense related directories. Other directories in the portfolio include http://www.defenseattorneydir.com, http://www.dwilawyerdir.com and http://www.duiattorneydir.com.