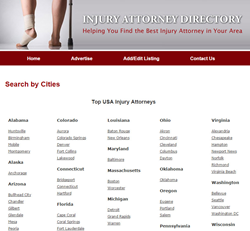 InjuryAttorneyDir.com avoids the clutter of ads and promotional messages, so the directory is clean and easy to navigate
San Diego, CA (PRWEB) November 30, 2014
A new directory offering an updated and concise list of the leading plaintiff's attorneys licensed in both the US and Canada recently launched at http://www.injuryattorneydir.com.
InjuryAttorneyDir.com identifies and addresses a common problem among individuals who have had been hurt in a car accident or suffered any other kind of personal injury. And that problem is it can be difficult to select a lawyer to represent them in their injury claim.
Often, those who have been hurt in a car accident, a workplace injury, a simple slip and fall, or other similar incidents don't immediately realize their full legal rights and the compensation that they truly deserve. They are also sometimes intimidated by complicated technicalities, such as insurance policies and clauses, statutes of limitations, and specific state laws.
The average individual is also bombarded by countless advertisements, promotions, and promises from lawyers. Sifting through these not only takes time and patience, but also can sometimes confuse an individual even more.
InjuryAttorneyDir.com aims to eliminate these difficulties for its visitors, through a "less is more" approach. First, the legal directory has selected a short but reliable list of law firms for each city. The directory also displays each law firm's short description, location, and contact details. This provides a straightforward profile for visitors and allows them to contact the law firm easily. In addition, InjuryAttorneyDir.com avoids the clutter of ads and promotional messages, so the directory is clean and easy to navigate.
Finding a good lawyer for an accident case doesn't have to be overwhelming and InjuryAttorneyDir.com aims to facilitate the process and make it less intimidating for individuals to get the quality legal advice and representation they desperately need.
Law firms wishing to be listed in the directory can submit their firm for consideration for a minimal fee.
InjuryAttorneyDir.com is part of a portfolio of accident law related legal directories. Other sister directories include http://www.caraccidentattorneydir.com, http://www.workerscompensationattorneydir.com, and http://www.braininjurylawyerdir.com.