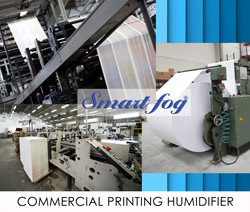 Smart Fog Turbo Mode provides precise humidity in extreme humidity conditions.
Reno, NV (PRWEB) November 30, 2014
Smart Fog announced this week the release of several new features to both the ES100 Direct Space and TS100 Induct industrial humidifiers.
ES100 direct space industrial humidifier provides a solution for directly humidifying small and large areas and is one of the most efficient industrial humidifier in the market today. TS100 induct industrial humidifier enables HVACR professionals to effectively humidify existing and new duct work. Both modern humidification systems are now available with Smart Fog turbo. Smart Fog Turbo is an innovation in humidification technology allowing facilities to maintain humidity precisely in very low humidity conditions.
Smart fog Turbo is a combination of mechanical and control automation engineering. The ES100 and TS100 units both have been enhanced to provide more humidity at once enabling faster humidification in a short period of time. The controls when registering extreme conditions automatically enable Turbo mode which uses enhanced algorithms to maintain a thin balance between precise humidity control and not moistening the surfaces.
About Smart Fog Inc:
In business since 1980, Smart Fog(R) Inc. is the recognized world leader in the industrial and commercial humidification systems industry. And, all products are manufactured in the U.S.
Smart Fog, The Humidification Experts, is a world leader in developing unique industrial and commercial humidifier systems to meet the individual needs of your environment.
For more information, visit: http://www.smartfog.com.