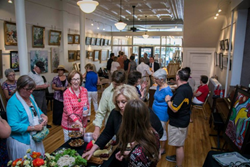 (PRWEB) November 30, 2014
The Franklin County Visitors Bureau extends an invitation to enjoy art this holiday season with Destination ARTS! in Waynesboro, PA. Art demonstrations, book signings, new art exhibits, and musical entertainment are slated for Thursday, December 4 through Sunday, December 7 and will continue each Thursday through Sunday during the holiday season. Destination ARTS!, a community initiative to transform vacant to vital, kicked off in July 2013 and transformed seven empty storefronts with 800 pieces of art from 75 different artists.
"Destination ARTS!" offers live music at Gallery 50, Gallery 20 East and 42 West ARTS Co-Op. The Ceramic Arts Center of Waynesboro and The Contemporary School of the Arts & Gallery will have art and pottery for sale and art classes available. To mark the start of the holiday season, gift registries are now available at Gallery 50, Gallery 20 East, and 42 West Arts Co-op.
Visitors to Destination ARTS! can witness the creative process of painting this week. Marjorie Tressler returns to Gallery 50 at 1:00 on Thursday afternoon to lead a demonstration, and impressionist painter, Donna Bingaman, will be working with oil at 42 West ARTS Co-Op from 1:00 to 4:00 p.m. on Friday.
"Wine Down Friday" receptions, featuring wine and light refreshments, are scheduled from 5:00 to 8:00 p.m. at Gallery 50, Gallery 20 East, 42 West ARTS Co-Op and The Ceramic Arts Center of Waynesboro.
Pianist Sharon Rost will bring her talents to the reception planned at Gallery 50. She'll start playing a variety of standards at 5:30 p.m. In Gallery 20 East, 5:30 – 8 p.m., Jay "Mudcracker" Parks will play the blues. A 20 year veteran of the local music scene and beyond, "Mudcracker" delivers a mix of original music and eclectic covers. Also at 5:30, Patric Schlee's flute and drums can be heard at 42 West ARTS Co-Op.
Several activities are scheduled on Saturday to celebrate the one-year anniversary of The Contemporary School of the Arts & Gallery. The celebration begins at noon, when storyteller Fanny Crawford shares "Stories of the Season" with visitors. She will be followed by a poetry reading with Art Page from 1:00 to 2:00.
Author Doina Moulin will arrive at The Contemporary School at 3:00 to sign copies of her book, Cupcakes & Cologne. Rounding out the afternoon of festivities will be the unveiling of a new exhibit from David Heatwole.
An 11th generation artist, Heatwole lives near Washington, D.C., but his "Points of Perception" series of paintings will be on display in downtown Waynesboro through Thursday, January 15.
The husband and wife team of Ed and Pat Beard will offer a pair of demonstrations at 42 West ARTS between the hours of 1:00 and 4:00 p.m. on Saturday. Ed is set to explain the art of wood burning feathers and animals while Pat can be seen weaving on the loom. The Beards enjoy teaching and live in Greencastle.
For the third and final time in 2014, David Wayne and Miss Penelope will make their way to Main Street on Sunday afternoon, providing "A Magical Experience" for audiences inside of Gallery 20 East from 2:00 to 4:00.Performing since 1996, David serves as the National President Elect for The Society of American Magicians. Miss Penelope will be making balloon animals for children.
The artwork of internationally known artists such as Hans and Andrew Guerin can still be seen at Gallery 50. Hans and his wife, Beth, have recently been selected to the Oil Painters of America Salon. Giftwrapping will be offered at the gallery as part of a special "Grin and Beer It" event on the evening of Friday, December 19.
"Destination ARTS!" currently features Gallery 50 (50 West Main Street), Gallery 20 East (20 East Main Street), 42 West ARTS (42 West Main Street), The Contemporary School of the Arts & Gallery (10 East Main Street) and The Ceramic Arts Center of Waynesboro (13 South Church Street). All of the galleries feature oil paintings, watercolors, pottery, fiber arts, sculpture, photographs, furniture and more. This weekend, they will be open on Thursday from 1:00 to 4:00 pm, Friday from 12:00 to 8:00 p.m., Saturday from 12:00 to 6:00 p.m. and Sunday from 1:00 to 4:00 p.m. For more information visit http:// http://www.artsalliancegw.org.
The Franklin County Visitors Bureau invites all to explore Franklin County PA and enjoy the history, arts and entertainment, recreation and natural beauty, and the fresh foods and warm hospitality of charming communities like Chambersburg, Greencastle, Mercersburg, Shippensburg, and Waynesboro. Franklin County PA is located just north of the Mason Dixon Line and an easy drive to Washington DC, Philadelphia, and Pittsburgh. Discover more....plan your visit at ExploreFranklinCountyPA.com or by contacting 866.646.8060.