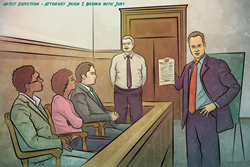 If It's not right, we'll fight.
Jersey City, New Jersey (PRWEB) November 30, 2014
Right outside New York City in an area of town referred to as "Wall Street West" secreted in an innocent looking business in New Jersey rests a powerhouse law firm with remarkable results nationwide. The head of the firm Jason T. Brown, a former FBI Special Agent who left his position as managing partner of a Manhattan based law firm roughly two years ago, is surfing the wave of litigation success and continuing to file complex litigation like class actions and mass torts. "Our trademarked slogan is 'If it's not right, we'll fight' and my team and I work hard to vindicate people's rights," Mr. Brown stated.
The hard work has paid off as The JTB Law Group, LLC has obtained millions of dollars of recoveries for its clients and Mr. Brown continues to receive numerous awards and accolades. The most recent is his back to back designation as Top 100 by The National Trial Lawyers.
According to their website, "The National Trial Lawyers: Top 100 an invitation-only organization composed of the premier trial lawyers from each state in the nation who meet stringent qualifications as civil plaintiff and/or criminal defense trial lawyers. Selection is based on a thorough multi-phase process which includes peer nominations combined with third-party research. Membership is extended solely to the select few of the most qualified attorneys from each state who demonstrate superior qualifications of leadership, reputation, influence, stature and public profile."
Jason T. Brown is a consummate workaholic who travels all over the country to fight for people's rights, which incidentally is the name of the firm's website, http://www.IFightForYourRights.com. Mr. Brown is a formidable litigator who had obtained settlements and judgments for the maximum damages permitted by law. "It is impressive to watch Mr. Brown work," according to attorney Zijian Guan. "He is deeply analytical and works hard to devise winning litigation strategies." The firm has found success in 2014 with millions in recoveries for people injured by bad products and lawsuits on behalf of employees who are not paid overtime properly and/or paid less than minimum wage.
Some of the representative matters the firm actively litigates is litigation on behalf of women who have allegedly sustained a "blood clot" injury like a deep vein thrombosis (DVT), pulmonary embolism (PE), stroke, sagittal venous thrombosis (SVT), superficial thrombosis or death from products like Yaz, Yasmin, Ocella, Gianvi, BeYaz and Safyral around or before the label of the product was changed in April 2012 (Docket MDL #2100 - Southern District of Illinois). Women who have had allegedly had bad mesh implanted in them from AMS (MDL No. 2325 | In Re American Medical Systems, Inc), Bard (MDL No. 2187 | In Re C. R. Bard, Inc., Pelvic Repair System) or any other trans-vaginal mesh products. The firm also has commenced lawsuits on behalf of individuals who allegedly been diagnosed with bladder cancer from the use of the product Actos by Takeda Pharmaceuticals (MDL No.2299) and the firm continues to handle cases on behalf individuals who have a metal on metal hip and have had or require a revision from Depuy (MDL 2197), Stryker (Stryker Rejuvenate MDL 13-2441) and Zimmer (MDL No. 2158).
The firm also handles a considerable amount of wage and hour lawsuits, filing actions on behalf of individuals who are routinely shorted pay by their employers. Representative matters include suing on behalf of workers who were just paid a "day rate" instead of any overtime, restaurant servers or other tipped employees who are improperly paid overtime at a rate of $3.195 or $3.20 an hour and workers who are improperly paid a salary and have to work excessive amounts of hours even though the law mandates they receive overtime pay.
Mr. Brown says he finds the work fulfilling and enjoys helping the "little guy" obtain justice over some of the big corporations that according to him "continually exploit their labor force for the sake of their own profits." Despite all his career achievements, he is still humbled by receiving all the awards and stated, "Once again I am honored to be designated a Top 100 Lawyer and thank my entire law team for their hard work, and my clients for the privilege of representing them."
More information of about the Top 100 according to the website is that, "Each of our distinguished Top 100 members possesses the knowledge, skill, experience and success held by only the finest and best lawyers in America. By combining resources, power, and influence, The National Trial Lawyers: Top 100 is devoted to preserving and protecting justice for all."
The JTB Law Group, LLC is located in Jersey City, New Jersey, but handles cases nationwide in conjunction with local counsel. Mr. Brown indicates that past success does not guarantee future results and to the extent that anything in this article is considered self-serving, it should be considered attorney advertising.