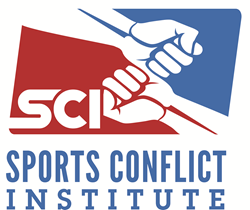 Masculinity is often entrenched in the sport.
Portland, OR (PRWEB) November 30, 2014
In this November episode of SCI TV, Joshua Gordon and Ken Pendleton explore issues in the NBA with Senior NBA writer and founder of the TrueHoop NBA blog, Henry Abbott. From the scouting system, to leadership styles, to new technology, there are many changes underway in the NBA and Abbott has covered much of the innovation that is shaping the future of the game.
Despite new thinking on team dynamics and conflict, Abbott sees strong personalities and the fallacy of the angry athlete as the norm in the NBA.
"The development system really favors the super high testosterone, 'I don't give a damn,' scorer," says Abbott. "Those are generally the guys that get on the radar, but that's a poor cross section of personality types to become good supporting role playing teammates."
On motivational differences, Abbott stresses attention to the variety of players in the league. "I think it's a question of diversity of personality types. You have to discern those differences. The challenge of a leader is to get the most out of the people there, not treat them all like Michael Jordan."
Abbott cites the Spurs as one of the more innovative teams whose nontraditional playing style and coaching has brought huge success. While running is generally seen as taxing to players, the Spurs have made uptempo work to their advantage.
"If you're playing fast, you're running. If you're playing slow, you're wrestling, doing all these stressful moves," Abbott says. "You can make it easier on your players by playing faster."
The Spurs strategy of benching the starters and relying on the backups to rally from a deficit strikes Abbott as great team building. "It becomes their game to win or lose. There's a reason they play so hard and love each other."
"Gregg Popovich looks for players with a sense of humor," said Abbott. "He knows who his stars are, they're going to be around for a long time, and he wants them to hang out with people that they're going to enjoy, because they're going to spend a lot of time together."
There are also a myriad of technology developments currently underway to optimize player performance and recovery including GPS systems tracking player movement in practice, sleep monitoring, and post-game blood testing to dial in recovery.
"(The technology) is coming very quickly and very aggressively, but it seems ripe for all kinds of privacy concerns," said Abbott. "I suspect those technologies will be deployed, but not through an employer. Players (might) have their own doctor or do it themselves."
Beyond the likely developments in technology, Abbott suggests a shortened schedule and revised foul rules to improve the game for fans and players.
"Fewer games is a no brainer. You might even make more money because the games would be so much better and scarcer. (There would also be) fewer injured players," said Abbott. On the incentive to hit players going to the rim, "They need to change the rules to benefit teams that play defense, not boxing."
Watch the full episode at:
https://www.youtube.com/watch?v=Rzt98hTn1Vk
About SCI
SCI supports competitive goals in athletics through understanding, preventing, and resolving destructive conflict both inside and outside the lines. SCI serves as a knowledge center and provides a range of services to help ensure student-athlete experience is part of a healthy university culture while optimizing performance on and off the field of play. Conflict is inevitable, but how we respond determines whether success follows or costs mount. SCI Founder Joshua Gordon has over 20 years of conflict management experience.