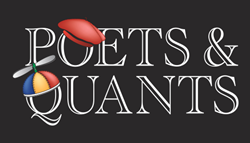 "This is the definitive ranking of the best MBA programs in the world," says John A. Byrne, editor-in-chief of Poets&Quants
San Francisco, CA (PRWEB) December 01, 2014
With interest in startups and entrepreneurship reaching a fever's pitch, Stanford Graduate School of Business emerged the No. 1 business school in the U.S. in Poets&Quants' 2014 ranking of the best full-time MBA programs.
At a time when Silicon Valley can now boast an HBO television show that pays homage to the pervasive startup culture that defines the region, Stanford nudged aside Harvard Business School for the first time since P&Q's composite ranking debuted in 2010.
Rounding out the top five programs was the University of Pennsylvania's Wharton School in third place, the University of Chicago's Booth School of Business in fourth, and Columbia Business School in New York in fifth. For the first time in five years, Wharton pushed ahead of Chicago Booth to claim its No. 3 position.
In a separate ranking of full-time MBA programs outside the U.S., London Business School repeated its first place finish for the fourth time in five years. INSEAD came in second, while IMD finished in third place. Two business schools in Spain--No. 4 IE Business School in Madrid and No. 5 IESE Business School in Barcelona--completed the top five non-U.S. MBA programs.
Unlike other rankings, the Poets&Quants composite list combines the latest five most influential business school rankings in the world: U.S. News & World Report, Forbes, Bloomberg Businessweek, The Financial Times, and The Economist. Instead of merely averaging the five, each ranking is separately weighted to account for our view of their authority and credibility. (U.S. News is given a weight of 35%, Forbes, 25%, while both the FT and Businessweek is given a 15% weight, and The Economist, 10% weight.)
Combining the five most influential rankings doesn't eliminate the flaws in each system, but it does significantly diminish them. When an anomaly pops on one list due to either faulty survey technique or biased methodology, bringing all the data together tends to suppress it. So the composite index tones down the noise in each of these five surveys to get more directly at the real signal that is being sent. The upshot: The list is far more stable–and reliable–than most rankings published elsewhere, taking into account a massive wealth of quantitative and qualitative data captured in these major lists, from surveys of corporate recruiters, MBA graduates, deans and faculty publication records to median GPA and GMAT scores of entering students as well as the latest salary and employment statistics of alumni.
This year, 25 of the top 30 schools had either an identical position as they had last year and experienced a change of only one place up or down. The stability in the list is reflective of the fact that from year to year, MBA programs rarely change dramatically. More consequential change may occur over a number of years as a program improves and that improvement becomes more generally recognized by stakeholders.
Besides the switch at the very top, the most consequential move among the elite schools involved Yale University's School of Management. Fueled by significant gains in the most recent rankings by the Financial Times and Businessweek, Yale climbed five places this year to finish 12th, its best ever showing. The school is in the fourth year of substantial change under new Dean Edward "Ted" Snyder. This is Snyder's third deanship, having been at the helm of both the University of Chicago's Booth School of Business and the University of Virginia's Darden School, and that experience has clearly paid off at Yale.
His strategy rests on three guiding aspirations: to make Yale the most distinctively global U.S. business school, to leverage the world-class university that Yale is by making the business school the most integrated with its home university, and to be recognized as the best source of elevated leaders for all sectors and regions. These days, you'll hear similar things from many deans but few have delivered in truly creative and innovative ways as Yale has done under Snyder and his two key deputies, Senior Associate Deans Anjani Jain and David Bach, particularly in making the school far more global than rivals with truly unique programs and approaches.
But at a time when one school after another is adding faculty and centers to support entrepreneurship, this was clearly Stanford's year. With applications up 3.5% this past year, the school continues to boast the most highly selective MBA program in the U.S., accepting only 6.5% of its applicants. Stanford MBAs typically land among the highest first-year pay packages in the world. And MBA startups at Stanford have been at record levels in the past two years, making the school the place to incubate a business from scratch, search for capital from angel investors and VCs, and launch. This year, roughly 17% of the graduating MBAs—exactly 65 students—went the startup route. That's about the same as last year when a record 18% chose to start new firms.
The year's single biggest improvement on the Top 100 was the University of Pittsburgh's Katz Graduate School of Business, which rose 18 places to a rank of 43rd this year. Generally, dramatic rises or falls on the P&Q list are experienced by MBA programs that suddenly appear or disappear from one of the five major rankings. In Katz's case, the school gained recognition this year from The Financial Times and Bloomberg Businessweek, surfacing this year when the school failed to make those lists previously. But Katz also gained ground at U.S. News, going from 61st to 52nd, and at The Economist, moving up from 47th to 43rd among U.S. programs.
Other big winners this year: Brigham Young University's Marriott School of Management, up a dozen places to finish an impressive 31st; Pepperdine's Graziadio School of Business and Management, rising 14 spots to rank 69th; UT-Dallas' Jindal School of Management, also up 14 places to finish 60th; and two University of California schools, UC-Davis' Graduate School of Management and UC-San Diego's Rady School of Management, both gaining 10 positions to rank 44th and 57th, respectively.
And the big losers? The school that did the longest swan dive of the year was Fordham University's Graduate School of Business. Under interim dean Donna Rapaccioli, an accounting professor who has led the undergraduate program and who only got the graduate job in June of this year, Fordham plummeted 15 places to barely finish in the top 100 at a rank of 98. The school disappeared from Businessweek's new list entirely after ranking 56th two years ago and also plunged 13 places in U.S. News' ranking to finish 93rd from 79 a year earlier.
Meantime, the University of Iowa's Tippie School of Business fell 14 places to a rank of 49th, while three other well-known schools each plunged 11 positions: Babson College went from 53rd to 64th, Thunderbird fell from 65th to 76th, and Syracuse University's Whitman School dropped from 72nd to 83rd. Case Western University's Weatherhead School of Management was the only other MBA program to drop in double digits, falling ten places to a rank of 62nd.