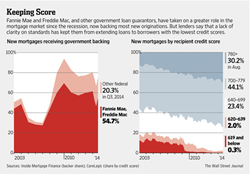 these actions by Fannie and Freddie will lead to an increased number of loans made available to Americans
Chicago, IL (PRWEB) November 30, 2014
Lenders like Peoples Home Equity are pleased to shares news that effective December 1st lending standards are set to ease. Thanks to greater leniency between guaranteeing institutions Fannie Mae and Freddie Mac and commercial lending business likes Peoples Home Equity, first-time home buyers will begin to benefit from lower down payment requirements, lower credit score requirements, and great clarity in home loan paperwork.
According to a Wall Street Journal release from November 28th titled "Mortgage Lenders Set to Relax Standards", "The new guidelines, to take full effect Dec. 1, resulted from an agreement in October meant to clarify when lenders would be penalized for making mistakes on mortgages they sell to Fannie and Freddie. Lenders have blamed the lack of clarity for tight credit conditions that have made it difficult for many consumers to qualify for a mortgage."
Lower Down Payment
Apart from better clarity in terms of misconduct in the lending process, Fannie and Freddie "will reduce the minimum down payment to 3% from 5% generally needed to qualify" for lenders to sell them the loans, as told by the LAtimes.com on October 17th. This is a big deal since both Freddie and Fannie guarantee 59% of all mortgages written in the United States.
While down payment requirements for conventional loans remain high at 20% among commercial institutions, lowering the minimums at which Fannie and Freddie are willing to purchase the loans gives lenders and incentive to lower their own down payment requirements.
From the 700's to 620
The Wall Street Journal showed that currently just 2% of new mortgage originations derived from credit scores of 620-639. In contrast 44.1% of loans originated from individuals with scores ranging from 700 to 779. However, thanks to the new Fannie and Freddie policies, credit score requirements are about to change. Bill Godfrey from Mason-McDuffie Mortgage Corp, in San Ramon, California said that now "the company will lend down to 620, the limits for loans backed by Fannie & Freddie" with private back mortgage insurance required.
Unfortunately, not all banks will lower their standards and follow Fannie and Freddies new policies. U.S. Bank Chief Executive Richard David said that "Unless we are convinced that the rules are going to be permanent and there is not going to be a look back or a reach back in future times…we are simply going to stay on the sidelines in the concerns of both compliance risks and other uncertainties." Bank of America CEO Brian Moynihan also weighed in and said "You won't see us start to expand our criteria much past what we've done."
The hesitation by these lenders to change their policies lays in their past litigation experience and fear of being sued in the future for misconduct in their lending process. Nevertheless, readers should note that many lending will ease their policies and these actions by Fannie and Freddie will lead to an increased number of loans made available to Americans by lenders like Peoples Home Equity. Wells Fargo President said the policies will give lenders "greater certainty for all the parties so that you can lend more confidently and make the whole judgment process much easier and more clear cut."
To compete with the increased number of pre-approved buyers, and also cash buyers, prospects must also be pre-approved for a mortgage. Consider using Peoples Home Equity as the lender. If unsure whether or not a home loan is an affordable choice, please note that frequently it's much less expensive to pay the mortgage, association fee, taxes, and utilities than it is to pay rent! One can easily find out how much a monthly mortgage will cost by visiting PeoplesHomeEquity.com and click on "Monthly Payment Calculator" under the "Calculator" field.
Contact a Peoples Home Equity loan officer today at: 262-563-4026