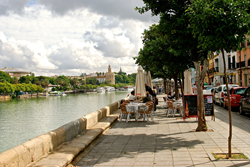 (PRWEB) November 30, 2014
Tourists should consider the popularity of European Countries when planning their 2015 travel packages to Europe, according to TripTrist Travel Planners. Spain tops the list followed by Italy and France. Consider Malta, Cyprus and Croatia on the Mediterranean for popular, yet smaller countries.
Spain was the most common tourism destination in the European Union (EU) for non-residents last year according to the recently released report by the European Commission EuroStat.
2013 saw an increase of 2.2% in the number of nights spent in EU tourist accommodation establishments. Travelers spent more nights on vacation than any previous year on record - a peak of 2.6 billion nights.
Across the EU, the top three most popular destinations for non-residents were Spain, Italy and France which together accounted for nearly half (of the total nights spent by non-residents in the EU-28.)
U.S. television views became more familiar with Malta as contestants of the TV show "The Amazing Race" featured a stay in Malta in the most recent episode. Malta small size makes it easy to stay in one place and sight see around the island. Famous for its beautiful beaches and interesting rock formations, visitors can also visit 5000-year-old temples and walk through charming Mediterranean villages.
All three countries are proportionally large compared to the 28 countries in the EU. When the size of the country is taken into consideration, the Mediterranean destinations of Malta, Cyprus and Croatia, as well as the alpine and city destinations of Austria were the most popular tourist destinations in the EU-28. Iceland and Montenegro were also popular destinations considering the size of their populations.
TripTrist is search engine for adventure travel and tours around the world. Choose from over 2,000 tours by locally owned and run tour operators. Travelers simply enter the location they would like to go and/or the activity they are looking for and browse from a list of exciting tour choices. No need to visit dozens of websites to plan an adventure travel vacation, just use the TripTrist search engine.