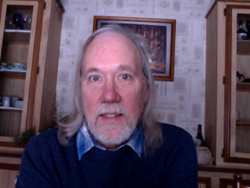 Doors started to open in front of me. People I never thought I would see again suddenly appeared. New teachers appeared, new paths appeared, new opportunities appeared, and it was all very fast and all very remarkable.
Munnsville, NY (PRWEB) November 30, 2014
Kwan Yin Healing's Tim Emerson remembers when his life moved from hope to consistent results: "Doors started to open in front of me. People I never thought I would see again suddenly appeared. New teachers appeared, new paths appeared, new opportunities appeared, and it was all very fast and all very remarkable. That started a whole chain of reasoning. When I understood that these things did work, I started going back and looking at them, and saying, 'The ones that aren't working, maybe I'm just missing something. What am I missing?' I slowly started to uncover all that and how they fit together. In particular, it has to do with the principles."
"I wanted to know why some clients experience remarkable healing and wondrous new life paths, while others felt energy and peace, but they never really moved on from there," explains Emerson. "Asking that question and going through this, for the people I was seeing as well as my own understanding, became the comprehensive system that is now the Kwan Yin Journey." Kwan Yin Healing is now announcing a new "getting started" program, "An Introduction to Manifesting Dreams and Desires."
"The four pillars, as I call them, are the heart of everything, the Four C's: clarity, connection, coherence and change," explains Emerson. "There should almost be a fifth one, meaning comprehensive, because what I have found is that you must have all four. If you don't have all four, you have nice ideas, but you're not going to get results, and it's because you're missing one of these four. There is a very real path to this in spiritual growth and walking in harmony with spiritual growth in the daily world. What keeps us stuck? What is it we're misunderstanding about the Law of Attraction? How do we manifest these dreams and desires?"
Much of the heart of Kwan Yin Healing's approach is in the "Twelve Common Misperceptions about the Law of Attraction (and what to do about them)" and in the "Nine Steps Toward Getting Unstuck." Here are a few excerpts:
1) "The Law of Attraction doesn't work for me."
"It does work—and is working," explains Emerson. "We have much of what we want already—where we live, what we do with our time, who we see—our choices already dictate our lives. Enjoy!"
2) Why will power and setting intention isn't attracting results.
"We are physical, emotional, mental and spiritual. Will power and setting intention uses only one aspect," observes Emerson. "They are important, but this must travel down to the emotional and physical levels, as well as harmonize with the spiritual levels."
3) Raising Vibration — think coherence and completeness, not escaping the mundane.
"Manifesting in physical reality while ignoring physical reality just sets self against self," notes Emerson. "Instead of thinking of escaping a denser vibration, think in terms of coherence of energy, of sympathetic vibration throughout, from physical through spiritual, working together."
4) Understand what's not working.
"Three ineffective roles populate the world: Prosecutor, Victim, and Rescuer," Emerson explains. "The Prosecutors are the tough manager, the strict teacher, the overbearing parent, and actually just convincing people to avoid them. Victims look at Prosecutors as the problem, but that means the Victims' behavior is always off the hook, not responsible for anything, and thus unable to change. Rescuers at first seem great, but afterwards, when life isn't perfect, the Victims turn on the Rescuers for "not rescuing good enough." Victims become Prosecutors."
"So recognize two points: (a) we can't control Others, and (b) acknowledge that our current approach isn't working," Emerson continues. "People will endlessly defend what isn't working, but something has to change—and that's us."
5) All people need help.
"OUR way got us where we are now, and will keep us here," cautions Emerson. "We need others: more resources, more ideas, people who aren't stuck where we are, because they don't have the mindset keeping us stuck. As we become stronger, as we reach more advanced levels, this is all the more important, because we're on new ground, and need the help of people who have been where we're going."
6) Abundance isn't a certain amount – it's a river.
"When we look up into the sky, we don't want to see a certain number of stars—we want to see limitless stars," notes Emerson. "That's abundance—a continual inflow. We also need continual outflow. Without both, we either have a flood or a drought. We also need to make some choices, some decisions. A river has to have banks that limit the river, or it becomes a swamp. There needs to be some sort of clear purpose."
Six free hours of recorded teleseminars on these topics are available at no cost from the Kwan Yin Healing website, http://kwanyinhealing.com , through the end of 2014.