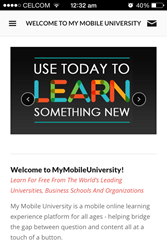 Education must continue to innovate. We do that by creating different pathways for student success, equipping and empowering students to embrace a constantly evolving future.Brian Lewis, Executive Officer, International Society Technology in Education.
Washington D.C. USA (PRWEB) November 30, 2014
MyMobileUniversity is a global initiative to impact lives through education by LTT Global Communications, an award-winning mobile and web based learning company that has pioneered learning on the go for the past 10 years. MyMobileUn is one-stop center that provides access and quality learning content suitable for all ages and all disciplines.
The University promotes lifelong learning, and life skills for young people and adults from anywhere at any time aimed to enhance growth and income of individuals.
"The 21teach library has a great collection of fun and interactive apps to make learning fun with a special focus on Science, Technology, Engineering & Mathematics (STEM) content," said Wemel Cumavoo, Co-founder and CEO at My Mobile University. Visitors are able to access videos, apps, games, e-books, and assessments - aligned to the schools common core program that helps busy K-12 teachers find quality educational content for their students to use in their classroom or at home.
"We are excited too about the collaboration with MyMobileUniversity as it allows us to explore new avenues of outreach here besides sharing a common vision to make learning accessible and affordable," said Karen Sorensen, Founder and CEO.
Check out the 21st Century Education content on MyMobileUniversity's website consisting of library of STEM based- videos, apps, games, e-books, and assessments- aligned to the common core that help busy K-12 teachers find quality educational content for their students to use in the classroom or at home.
MyMobileUniversity provides a social education platform where content is aggregated, organized and share content created by companies, individuals or others by making it easily available in a one-stop center. Companies, Government Agencies, NGOs' and Educational Institutions are invited to come forward to place their content in http://www.MyMobileUni.com and together and all can impact lives through education" said Wemel.
Dr. Lawrence Wasserman, Vice President of Strategic Alliance at MyMobileUniversity said, that an example of a recent content provider is The Mother and Child Health and Education Trust who approached us to add the Health Phone website to our Videos channel. It has over 2,500 videos across 77 languages and it is the world's largest teaching video library on global health issues.
My Mobile University has a passionate vision to help individuals improve their livelihood and give a positive impact to their workplace, social, and community circles by making learning accessible to everyone. MyMobileUniversity is open to new collaborations with strategic partners, outreach or content or mobile and elearning partners and/or media partners who are keen to come on board and support the University's vision.
To start using MyMobileUniversity go on to MyMobileUni.com, then please download the MyMobileUni mobile app from the Android or IOS Appstore.
For More Information Please Contact Corporate Headquarters:
http://www.lttcom.com
14, First Floor, Jalan SS 3/33, University Gardens
Petaling Jaya, 47300, Malaysia
+60 3-7877 7023
Corporate HQ
Rani Wemel,
Co-Founder/COO
Email: founders(at)MyMobileUni(dot)com
Dr Lawrence Wasserman,
Vice President, Strategic Alliances
dr(dot)lawrence(at)MyMobileUni(dot)com | wfuture(at)hotmail(dot)com
Tel (O): +1 301.424.1383 | Fax: +1 301.424 1383 | http://www.LTTCOM.com |
Cell +1 240.462.3471 | Skype: galaxy139 |Twitter: FORTECH139|