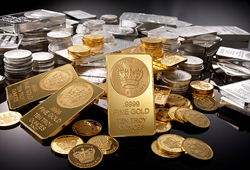 Bullion is now available to anyone anywhere in the world with Bitcoin.
San Francisco, CA (PRWEB) December 02, 2014
DigitalTangible currently manages the worlds first Bitcoin precious metals trading platform. By developing tokens that can be verified on the Bitcoin blockchain, users can buy and sell gold and silver bullion and have ownership verified on the blockchain. Whoever owns the token owns the bullion stored and verified by International Depository Services of Delaware.
Though Bitcoin is global in its adaptation, many of of the goods and services that it seeks to cater to have not advanced much in recent years. Take specifically gold and silver. Because of shipping costs, international buyers of bullion can expect a large amount of their investment capital to go to the transportation of their metal. Digital Tangible eliminates these cost. Buyers on their platform will never have to pay for shipping as long as it is stored in the depository.
DigitalTangible's Bitcoin bullion trading platform (https://www.digitaltangibletrust.com) is doing more than utilizing Bitcoin as a currency. By integrating their tokens to be verified on the blockchain millions of buyers can now use these tokens to trade and invest in precious metals in realtime. Bullion is now available to anyone anywhere in the world with Bitcoin.
DigitalTangible is closing out 2014 strong by offering select dealer bullion products at wholesale pricing. This you are paying the lowest price available for physical gold and silver. Its time to store your gold on the Bitcoin Blockchain.
DigitalTangible Founder and CEO, Taariq Lewis, expressed his thoughts about the promotion partnership: "Physical precious metal investing is receiving more converts from paper gold trading. Given the immense demand we have seen, we're excited to partner with Agora Commodities to promote this end of year opportunity for new and current investors. Linking precious metals to the Bitcoin Blockchain is an innovation that creates new investment opportunities that were simply impossible in recent memory.