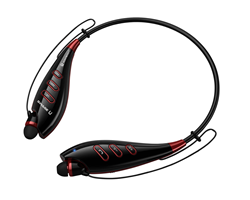 Consumers Choosing Rokit Boost's Bestselling Bluetooth Headphones, SwageU, as Top-Shelf Gift Option
New York, NY (PRWEB) December 01, 2014
The holiday season is rapidly approaching, and holiday shoppers everywhere are turning to Rokit Boost for hot-button, luxury mobile accessories. There is a wide range of affordable gift options, including smartphone battery cases, wireless speakers, portable power banks, tablet cases and Bluetooth keyboards, and other top-shelf accessories. And for busy holiday shoppers and people given to a little self-indulgence, there's a great option in Rokit Boost's bestselling SwageU Bluetooth headset.
With strong-performing speakers and a comfortable design, the SwageU headphones pack a powerful punch. A memory flex neckstrap and magnetic ear buds lend to easy, comfortable listening for extended periods of time. And with their Bluetooth V4.0 technology, these wireless headphones are compatible with the iPad, Samsung Galaxy, MacBooks, Kindle, and almost any other Bluetooth-enabled device.
Holiday Savings a Click Away
From now until Christmas Day (Thursday, December 25, 2014), Rokit Boost is offering a 15% holiday shopping discount and free shipping on the SwageU headphones and other mobile accessories. This discount coupon can be found and redeemed when shopping at RokitBoost.com.
Features Overview:

Wireless compatibility with almost any Bluetooth-enabled device
Lightweight and flexible for easy, trouble-free wearing
Built-in microphone and hands-free dialing capacity for easy communication
Bluetooth V4.0 chipset technology with APTx support
Rich audio quality from great-performing speaker units
Up to 8 hours of playback time and 100 hours of standby time per charge
Easy mode switching for convenient operation
Multipoint HFP Connection for simultaneous connectivity with 2 devices
EQ for better sound control
Support for hands-free dialing (e.g., Siri for iPhone®)
Premium comfort with titanium alloy memory flex neckstrap
Rich Audio Quality and Exceptional Performance Value
With the SwageU wireless headphones, never again will listeners have to settle for sub-par audio quality when working out, listening to music, or watching videos. This headset's speaker units are optimized for higher frequency and sensitivity. In addition, with the equalizer function, users can indulge in a rich listening experience with more depth than before.
Combined with their great functionality, portability, wireless communication, and other features, the SwageU headphones are uncompromising in their customer value. Many mobile users have adopted these great-performing headphones for use in personal and professional settings.
Availability
The SwageU Bluetooth headphones can be found at Rokit Boost's online store and Amazon.com. Rokit Boost also offers customers a 1-year limited warranty and a 30-day moneyback guarantee. For more information, please visit: http://www.rokitboost.com.
About Rokit Boost
Rokit Boost is a pioneer of affordable, high-quality mobile accessories. Whether they are innovations including iPhone charger cases, Bluetooth headphones, or wireless Bluetooth speakers/microphones, Rokit Boost's team seeks to add substantial enhancements to great existing products. The company also offers a refurbishment program of certified products for exceptional customer value, at reduced pricing.