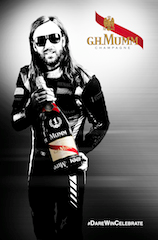 Marketers are extending beyond their traditional audiences and reaching millennials via electronic dance music and innovative uses of technology
New York, NY (PRWEB) December 03, 2014
"My Love Affair—a global branded-entertainment company creating multimedia campaigns for brands and artists—has conceptualized the world's very first dual-screen music video for the new song, "Dangerous," by internationally acclaimed DJ David Guetta. The company today also announces the second phase of a two-part campaign for MUMM House of Champagne in collaboration with the artist.
The project with Guetta, regarded as the world's No. 1 DJ, marks MUMM's first collaboration with a music industry figure. The artist's image and brand new single, "Dangerous," from his upcoming album, Listen, are helping to promote the brand's official international sponsorship of Formula One™.
My Love Affair oversaw the MUMM-Guetta partnership, serving as strategic marketing agency, technology consultant and production coordinator. Fans use two devices to see previously unreleased content from the music video with a dual-screen experience optimized for use on 4G/Wifi and with the most updated browsers and smartphones.
TO WATCH THE "DANGEROUS" MUSIC VIDEO CLIP & EXPERIENCE THE UNIQUE DUAL-SCREEN TECHNOLOGY:
1. Click here on your desktop or laptop to get your viewing access code
2. Connect to http://dg.lc using your smartphone
3. Enter the viewing access code into your smartphone and follow the onscreen instructions to connect it with the music video
4. Press play on your smartphone and the music video will start revealing exclusive previously unreleased scenes and new characters
5. (For a better experience ensure you have 4G/Wifi connexion and a recent browser)
To celebrate the collaboration, MUMM invites fans to win the ultimate Formula One™ experience at the Monaco Grand Prix™ in 2015. To enter the competition, fans should simply share their greatest personal victory on http://www.ghmumm.com
"We have worked hard to create something special and make the experience of our music video for 'Dangerous' super cool," Guetta said. "With this never-before-seen, dual-screen technology, it is like you are experiencing the music video firsthand. I am so grateful to have had the opportunity to work with MUMM to bring this to music lovers and Formula One™ fans and for them to get inside the action and experience the feeling of celebration for themselves."
The video and interactive content bring to life the thrill and emotion of Formula One™. Directed by Swedish Grammy-award winner Jonas Åkerlund and starring F1®driver Romain Grosjean, the video uses new technologies to create a fully immersive viewing experience for fans. As part of the storyline, Guetta races an F1®car in competition with a fictitious racer played by British actor James Purefoy. At the end of the video clip, Guetta stands on the podium, celebrating with the MUMM F1® Jeroboam brand.
My Love Affair: Music and Branding Innovation
"Having initiated and conceived the partnership between David and MUMM, we believe these two iconic brands fit perfectly together," said My Love Affair CEO Raphael Aflalo. "Marketers today are extending beyond their traditional audiences and reaching millennials via electronic dance music, innovative uses of technology and social interaction with the music and the brand. We salute MUMM for making this foray into EDM and thank David for creatively expressing the brand's celebratory essence."
Aflalo noted that MLA worked with MUMM and the artist to develop the campaign in stages and to provide unique experiences, content and products through 2015.
"The video has an intricate storyline and many characters. As such, we wanted to give people the chance to become familiar with all that David wanted to share before launching the interactive elements that have gone live today," he said.
Chairman and CEO of MUMM House of Champagne Phillippe Guettat commented, "Our brand has a rich history of innovation and dedication to creating true world 'firsts.' Our partnership with David Guetta is a modern interpretation of how we continuously push the boundaries. We are delighted to work with David to bring a fantastic experience to our fans for the first time and to use the latest technology to create something that is truly spectacular."
About My Love Affair
My Love Affair is an international entertainment agency creating branded-entertainment campaigns to benefit brands, artists and fans alike. The company, created by Cathy Guetta and Raphael Aflalo, is headquartered in Paris, London and New York. The company conceives and produces multimedia advertising and promotional campaigns, brand-sponsored music videos, product placement, and other custom and interactive content. My Love Affair also produces the web-music and brand-sponsored program Live@Home™. My Love Affair has released more than 30 multimedia campaigns for brands such as Mondelez, Renault, HP, Sony Mobile, Longchamp, Procter & Gamble, Barilla, IWC, Carlsberg, and Alcatel Onetouch in connection with numerous artisis including David Guetta, Will.I.Am, Alicia Keys, Iggy Pop, Lenny Kravitz, Justin Bieber, Avicii, among others.
Please visit http://www.my-loveaffair.com to learn more.
About David GUETTA
Born on the 7th of November 1967, multi award-winning French DJ David Guetta began his electro affair in the 80s and 90s, DJing at underground clubs in his home city of Paris. He soon was headlining at the biggest Parisian clubs such as Le Palace and Folies Pigalle. Guetta received international success in 2009 with the launch of his album One Love, which sold three million copies globally. Today David Guetta has received countless music accolades including, Top EDM Artist (Billboard Awards) 2013, Best Remixed Recording (Grammy) in 2010 and 2011 and MTV music award for Best French Act 2011. Today he has over 57 million fans on Facebook, sold over 8 million albums and 40 million singles worldwide. He has received over two billion views on YouTube and has over 16 million Twitter followers. David Guetta remains the most downloaded music artist in Europe.
About Maison MUMM
MUMM is part of Martell Mumm Perrier-Jouët, the prestigious cognac and champagne business of Pernod Ricard, world's co-leader in Spirits & Wines. With its distinguished heritage dating back to 1827, MUMM is the leading international champagne House in France and fourth worldwide*. MUMM Cordon Rouge, recognisable by its red ribbon—a symbol of excellence—is the perfect embodiment of the spirit of the House: it stands out through the freshness and intensity of its style, which successive generations of cellar masters have successfully maintained and handed down. * IWSR 2013
For more information: http://www.GHMUMM.COM