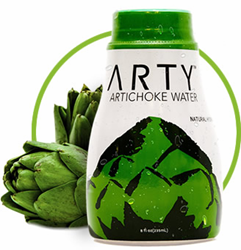 The Vegan community has embraced Arty Water, and we are honored to connect directly with consumers thruogh non-traditional advertising."
(PRWEB) December 29, 2014
Arty Water Company, maker of Arty™ Artichoke Water, announced today that it is partnering with The Vegan Roadie, an exciting new travel and culinary web series premiering January 2015. The partnership marks an expansion into vegan and natural food markets across the United States.
Arty Water is the world's first superfood hydration beverage made from fresh California artichokes. Artichokes contain unique antioxidants and vitamins that help remove toxins, enhance digestion, and elevate antioxidant levels. Arty Water harnesses these powerful nutrients in a patent-pending extraction process to deliver a light, delicious tasting experience.
The Vegan Roadie began as a Kickstarter project and was the brainchild of Dustin Harder, a plant-based chef, actor and theatrical dog handler. Dustin has toured the country as an actor in song and dance and was fortunate enough to prep and handle rescue pups for Off-Broadway and Broadway productions including the beloved musical Annie.
Harder received his culinary training from the Natural Gourmet Institute for Health and Culinary Arts in New York City, the premier health-supportive culinary school in the country. He has worked alongside award winning Chef Chloe Coscarelli in her test kitchen and contributes monthly blog columns to The Knife and Fork Project. A vegan since 2009, Dustin is enthusiastic about bringing plant-based eats to the mainstream.
As host of the new web series The Vegan Roadie, Dustin is determined to stay meat free while he drives across the United States filming segments at vegan restaurants.
"We are excited to sponsor Dustin and The Vegan Roadie. The vegan community has embraced Arty Water since its debut at the 2014 Natural Products Expo West, and we are honored to reach beyond traditional advertising and marketing programs to connect directly with our consumers," said Howard Ketelson, CEO of Arty Water.
You can follow The Vegan Roadie and Arty Water as they make their way across the country. Check out the The Vegan Roadie Tour Route and email Dustin with restaurants to visit. Arty Water can be purchased at Amazon.com and select grocers in California, New York and Texas.
About Arty Water
Arty Water is the world's first plant-based beverage made with fresh California artichokes, lemons, apples and spearmint. Arty Water is a multi-functional beverage containing antioxidants, electrolytes, vitamins, and minerals. It is is vegan, non-GMO, low-glycemic, and contains no preservatives, artificial ingredients or caffeine. Made in the USA, Arty Water sources local ingredients and supports farming communities that promote sustainability and conservation. Arty Water Company is headquartered in Newport Beach, Calif. For more information, visit http://www.artywater.com.