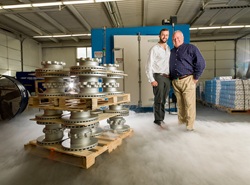 Decatur, IL (PRWEB) November 30, 2014
One father-and-son-owned family business has drawn the continued attention of fleet maintenance managers as it brainstorms new solutions to complex inventory issues while also responding to increased demand for its newest line of vehicle parts: TruBlue Braking includes new brake rotors and brake pads designed primarily for medium-duty and heavy-duty fleet vehicles. As interest has grown in the transportation industry, 300 Below has become familiar with increasing its operational capacity in Central Illinois, as it has expanded operations twice in the past year by adding new equipment and capabilities to serve its newest fleet accounts.
"Just after we expanded our capacity earlier in 2014, brake rotor orders filled up our entire warehouse. We're going to need to expand again," says Pete Paulin, CEO of 300 Below, about fulfilling new orders of TruBlue Braking products in the last month. "As companies are requiring their vehicles to work overtime, they're realizing the demands placed on them by upper management to save money and keep assets on the road longer. Our technology does exactly that: we are one of the few options sought by cost-conscious fleet managers who don't want to change or retrain their maintenance teams."
For 2014, 300 Below designed a custom metallurgy for its TruBlue brake rotors that responds best to its proprietary cryogenic treatment process administered in the United States, and pairs each brake rotor with a high-tech coating that withstands a 1,000 hour salt spray test for corrosion. In testing by Greening Labs, brake pad life increased 60% when paired with treated rotors, and treated rotors tested in that same independent study were shown to have improved by 400%. 300 Below claims triple the life on average in its marketing when using its cryogenically treated brake rotors over untreated brake rotors, since driving habits vary from driver to driver, and remains the only company in the transportation industry to provide a lifetime warranty that guarantees a 200% improvement over previously-installed untreated OEM brake rotors.
Pete's son, Prescott Paulin, serves as International Research Consultant at 300 Below and studies the needs of fleet maintenance managers. He says, "One of the biggest headaches in fleet maintenance is managing a rapidly changing inventory for vehicles along with identifying products to place in inventory that will last longer and perform better than their predecessors. As vehicles are tracked closely for uptime metrics and improvements to maintenance intervals, these problems are becoming more transparent to upper management, and fleet managers are calling upon us to solve their problems."
300 Below is currently creating a new parts inventory management solution with the goal of managing inventory on mobile devices, since every part in its box is tracked by a unique code that can be scanned on a cell phone to retrieve relevant information about its origin, batch number or lot number, purchase order number, invoice number, and other part related measurements, all updated in real-time through the cloud. This upcoming solution will introduce open source initiatives to help track transportation assets, which enhances a previously tedious process in cross-referencing part numbers and submitting parts into warranty programs. By offering a seamless process by which a maintenance worker can scan a box from inventory and digitally track its placement onto a vehicle, this new solution has attracted significant interest from distributors and end users alike.
TruBlue's entire customer experience (UX) is reconsidered and redesigned in order to create the best possible outcome for all fleet managers, even if they aren't yet customers for 300 Below. Since 300 Below's fleet inventory management solution is intended to be made openly available, the adoption curve will be reduced and inventory efficiency can be realized for minimal cost. Crossover applications are also being discussed by 300 Below's clients in other industries since recent efforts by tooling manufacturers have seen limited adoption when making their catalogs digital through Microsoft Surface or PDF format rather than a responsive database-driven web application, resulting in increased customer confusion, according to staff interviews at this year's International Manufacturing Technology Show (IMTS) in Chicago, IL.
Along with the creation of this new inventory management and parts ordering platform, 300 Below continues to grow its inventory to serve new customers, including government clients. One of the largest police departments in the United States recently contracted with 300 Below to manufacture brake rotors for its entire fleet of police cruisers. These orders have required the introduction of new SKUs to serve trends in eco-friendly / hybrid vehicles being adopted into the law enforcement community.
As 300 Below's business continues to grow, the father and son aspect drives culture within the company, reinforcing family values that extend to transactions with suppliers and clients alike. 300 Below is proud to partner with family businesses in Central Illinois that supply its boxes, label printing, and other services into the company. We believe in giving back to the local community as a milestone toward our ongoing success since our business was started in the basement of Pete Paulin's house, ultimately transitioning into a local Decatur, IL business incubator with community support to grow.
With the rising demand for new innovative solutions in the transportation industry, 300 Below continues to pioneer new fleet maintenance solutions that keep vehicles on the road longer. TruBlue Braking products reduce downtime associated with wear parts, like brake rotors and brake pads, especially by reducing corrosion associated with winter weather wear and road salt conditions experienced by drivers of medium and heavy duty fleet vehicles. New technology to manage these and other parts as they are purchased and introduced onto fleet vehicles is also forthcoming, with new a web-based parts management platform release planned for 2015.
300 Below, Inc. provides metallurgical engineering services as the world's largest and oldest commercial cryogenic processing company, in business since 1966. Through its liquid nitrogen based services, molecular structures of steel components are rearranged to last 200-300% longer for around 20% cost of the component. For 2014, 300 Below has introduced a new line of non-toxic cleaning and lubrication technologies as well as a patented scrub pad. 300 Below's cryogenic tempering process acts an extension of the heat treatment process used in manufacturing defense and aerospace components, high-performance motorsports applications, 262,000+ gun barrels, sporting goods, and musical instruments. 300 Below has started 156 operations in 36 countries around the world with its technology. Customers include NASA, as well as all branches of the U.S. Military and their contractors.