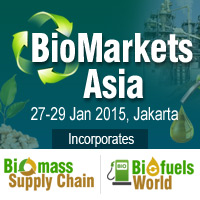 Bio-Markets Asia (incorporating – Biomass Supply Chain & BiofuelsWorld) seeks to explore opportunities across power generation, biodiesel and bioethanol production and distribution in Indonesia.
Jakarta, Indonesia (PRWEB) December 02, 2014
The who's who of the biomass and biofuels ecosystem led by Keynote Speaker Mohd Emir Mavani Abdullah, Group President & CEO of Felda Global Ventures Holdings Berhad are due to convene in Jakarta for a detailed discussions on global demand for wood pellets & wood chips; pricing and competition of supply'; Indonesia petroleum market; biofuels mandate; forestry to pellets production; wood pelletizing; palm oil plantation business; biofuels in aviation fuels; global ethanol market and much more.
Incorporating 2 intertwining tracks – Biomass Supply Chain & Biofuels World – the summit's speakers line-up hail from:

Hawkins Wright Ltd.
Eco-Frontier
Spanner Re ² GmbH
ADL Capital Advisors
Ata Marie Group Ltd
Indonesian Clean Power Ventures
GDF SUEZ Energy Management Trading
Sararasa Biomass Pte Ltd
Clearsource Pte Ltd
Global Green Synergy Sdn. Bhd
Felda Global Ventures Holdings Berhad
Frost & Sullivan
PT Inhutani III (Persero)
Pertamina
Indonesian Association of Biofuel Producers (APROBI)
Garuda Indonesia
Green Pool Commodities Services
Ethanol Producers Association of the Philippines (EPAP)
Petrovietnam Research and Development Center for Petroleum Processing
Tsinghua University
DBT-IOC Centre for Advanced Bio-Energy Research (Indian Oil Corp Ltd)
PT Perkebunan Nusantara IV (PTPN)
Bionas Sdn Bhd - Bio Oil National Group
For more details on agenda, visit the event website or call Ms. Hafizah at +65 6346 9218.