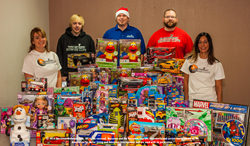 "...we are constantly striving to help make our community a better place to live, this is just one of the many ways we do that." -Alex Matthews
(PRWEB) December 03, 2014
This year a shelter for women and children will get some holiday cheer through the works of several nonprofit organizations. Pajaro Valley Shelter Services in Watsonville, California is on the list to receive toys and gifts from two generous contributors.
For the past five years Narconon Redwood Cliffs has worked to raise toy donations for the children residing at the local Pajaro Valley Women's Shelter. However, this year has proven to be the most successful of all, due to the generous help of the Purist Group. The Purist Group formed when Sean Lee invited his fellow friends, mostly exotic car enthusiasts, to come together to do good.
"November 22nd, 2014 is a day I shall remember in my heart for the rest of my life. This is a day that everyone came together to help for a great cause. Today, I'm proud that I created Purist Group 2 years ago," reported Sean Lee, head of the Purist Group. "The 2013 Winter Drive rose over $150,000 in toy donations but this year seems to far surpass those numbers. November 22nd is also a day that we all shall remember how blessed we are, knowing that we are able to wake-up and able to contribute towards our family, friends and community."
Narconon Redwood Cliffs was invited by Sean Lee, head of the Purist Group, to their second annual Winter Toy Drive, hosted by Hanook Tires, Autocon Events, & Purist Group. This year the drive was held in Rancho Cucamonga, CA.
At this year's event, Narconon Redwood Cliffs gathered a generous amount of toy donations, to give to children who may not receive gifts otherwise. "The looks on the children's faces when they open their gift is priceless. There is no greater feeling than knowing you have helped raise the spirits of a less fortunate child," reports Alex Matthews, Field Control Supervisor for Narconon Redwood Cliffs. "Though Narconon Redwood Cliffs is mainly in the drug and alcohol treatment field, we are constantly striving to help make our community a better place to live, this is just one of the many ways we do that."
Similar to 2013's Winter Toy Drive, Reach Out Worldwide (ROWW) was again a key contributor. Reach Out WorldWide is a nonprofit rapid response team committed to providing critical aid to those affected by natural disasters and humanitarian crises. The late American actor, Paul Walker founded ROWW. This year's Winter Drive held special significance with the anniversary of Walker's tragic death just a few days away.
Other key contributors of the Winter Drive were: Scion USA, Junopower, Leapfrog Toys, Goldrush Rally, Vizio, Guppy House, Car Ninja, & ModBargains.
http://www.pvshelter.org
http://www.redwoodcliffs.com
http://www.roww.org