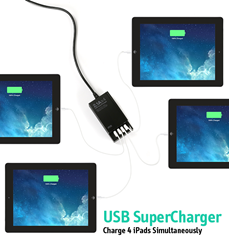 This charger has a permanent home on my end table where anyone in the family can quickly plug in and charge up.
Sunnyvale, CA (PRWEB) December 08, 2014
The USB SuperCharger from tech designer IPEVO has earned an average rating of 4.5 out of a possible 5 stars on Amazon.com with over 100 reviewers weighing in on the charging device for iPad and other USB devices. And with end-of-year festivities soon approaching, the USB SuperCharger makes both an ideal gift and a useful portable charging station for family visits and get-togethers. The USB SuperCharger is available at a price of $59.00 from Amazon.com as well as the IPEVO Online Store at IPEVO.com.
IPEVO – the Sunnyvale, California-based tech company – specializes in creating teaching tools for educators as well as everyday accessories for consumers and businesspeople. The USB SuperCharger synergizes well with the company's emphasis on using iPad in the classroom, but the charger is equally at home in busy households and offices featuring multiple tablets and USB devices.
The USB SuperCharger features four charge ports each rated at 2.1 amps, all powered via a single electric outlet. This means that up to four iPads, iPhones, iPods, and other tablets and USB devices can be charged simultaneously with the rapid 2.1-amp speed users are accustomed to with their default chargers. This is in sharp contrast to competing chargers which may spread 2.1 amps around to multiple ports or confine the 2.1 amps to a single port, resulting in a significantly slower overall charge time.
A survey of Amazon reviews presents the consumer perspective on the USB SuperCharger. User M. Hill provides one perspective: "There are never enough USB ports or electrical outlets and this device provides an easy solution. The unit only needs one electrical outlet and accommodates charging up to 4 USB devices at one time. I used it to power my Raspberry Pi while charging three other devices and it brought them to a full charge in far less time than when plugged into their original chargers." And user Gadget Girl talked about what makes the charger different: "The IPEVO SuperCharger dock is awesome and more than just a multi-USB charging hub. What makes it different? To me, it is that it doesn't split the charging power between the number of devices. Instead, it charges all devices equally. We have 4 iPads and 2 iPhones so this product makes a great charging station for us. I especially appreciate that we can quickly charge many devices simultaneously and quickly."
User Candace Mike N Elmo calls the USB SuperCharger a "godsend": "Everyone should have one of these if they have more than one smartphone or tablet. It works just as advertised. I had two iPhones and two iPad Airs plugged into this at the same time, and this device charges them up quickly. This charger has a permanent home on my end table where anyone in the family can quickly plug in and charge up." And user lapis talks about using the SuperCharger with iPhone 6 Plus: "This is a dream charging dock. It is so great being able to charge at tablet-level output four devices at once. My iPhone 6 Plus charges so fast with this. And I love being able to have my phone, iPad, Bluetooth speaker and Bluetooth headphones all charging simultaneously at the same outlet."
The USB SuperCharger from IPEVO is available in time for the gift-giving season from Amazon.com as well as IPEVO.com at a price of $59.
About IPEVO
IPEVO designs and sells innovative products to enrich today's connected lifestyle. We recognize the immense potential of new technologies to help people create, teach, learn, and inspire. From classroom to living room to conference room, IPEVO is dedicated to making technology more available, accessible, and affordable for all.
For more information, visit http://www.ipevo.com.