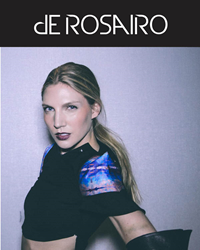 Being part of a unique shopping experience is important to the dE ROSAIRO woman who lives her life in the throws of everyday luxury, and the experience at Mondrian Soho offers a unique way to indulge her
New York, NY (PRWEB) December 02, 2014
Womenswear clothing brand dE ROSAIRO innovates a Disruptive Style Lab for the hotel and bar guests of Mondrian Soho in New York as part of its final in-city brand launch on Friday, November 21st. What started as a typical Friday night of drinks and dining at Bar Enoteca turned into an unexpected evening for those enjoying the evening amenities and the Behind the Bookcase art curation of the sophisticated Mondrian Soho.
Other in-city launches in the last four weeks have included San Francisco and Seattle. The dE ROSAIRO brand is headquartered in San Francisco due to the close proximity the brand desires to maintain to women in tech. The San Francisco Runway Show and Style Lab was hosted at downtown Hotel Zetta, and the Seattle Style Lab was hosted at the W Hotel. The three launches curated a list 350 invited guests including women in tech, entrepreneurs, fashionistas, tastemakers, and media.
While Style Labs are part of the dE ROSAIRO strategy of staying close to the customer and selling direct, Disruptive Style Labs are elevating the dE ROSAIRO game and creating an experience that plays at a whole new level. "Being part of a unique shopping experience is important to the dE ROSAIRO woman who lives her life in the throws of everyday luxury, and the experience at Mondrian Soho offers a unique way to indulge her", says CEO and Creative Director, Nishika de Rosairo.
dE ROSAIRO produced three mini Disruptions every 15 minutes during the timeframe of 9:00 – 10:00 PM where an entourage of four models walked a designated runway path through the hotel. The combination of a fierce walk and crisp attitude while being styled in the dE ROSAIRO Fall/Winter 2014 collection had guests intrigued as the models appeared for the first time, disappearing shortly after, and re-appeared again a few minutes later. This second re-appearance involved the models dropping off dE ROSAIRO envelopes before select female and male guests. Upon opening the branded triangle envelopes, black ink invited guests to "meet me upstairs". As invited guests were whisked through a black door, climbing up a back stairwell into a dimly lit room, the energy heightened to the lights of a live photo shoot. Chilled champagne was passed around while an intimate room of 80 guests were invited to shop the debut Fall/Winter 2014 collection at Mondrian Soho. "This is the beginning of a new kind of Style Lab for dE ROSAIRO which we will produce and direct in other cities as well. We want our customer to recognize a dE ROSAIRO Disruptive Style Lab is occurring when she see's a beginning hint of it at a hotel she is staying or spending the evening at", says de Rosairo.
Styling of the photo shoot and runway was directed by New York based fashion stylist, Schuanne Cappel, styling expert to designers, brands, and magazines (schuannecappel.com). Live photo shoot was directed by photographer Quinnton Harris (quinntonharris.com). Gloves were pulled from Italian fashion accessories maker Portolano (portolano.com).
http://www.dEROSAIRO.com
http://www.facebook.com/dEROSAIRO
http://www.intagram.com/dEROSAIRO
http://www.pinterest.com/dEROSAIRO
http://www.twitter.com/n_dEROSAIRO