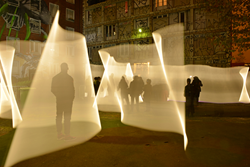 I will create spontaneous new light painting photos at night in and around various art events from South Beach to Wynwood.
Miami, FL (PRWEB) December 02, 2014
From December 2 to December 7, 2014, Cheryl Hazan Contemporary will feature the work of acclaimed light graffiti photography artist Vicki DaSilva at SCOPE Miami Beach during Art Basel Miami Art Week 2014.
SCOPE is recognized as one of the leading international art shows that connects art galleries, their artists, private collectors and public institutions from around the world. This platform also provides an opportunity for visitors to see many types of exhibitions and to experience the artists.
Art Basel Miami Week is known as the largest and most comprehensive collection of global art fairs in the world. SCOPE takes a deep dive into the cultural soul to present only the best groundbreaking work across multiple creative disciplines. It is here where Cheryl Hazan Contemporary will feature DaSilva's work in booth #G 0 7.
One of the photographic works to be exhibited, 'Tour Paris 13', was created on the last night of the highly popular graffiti show in Paris presented by Galerie Itinerrance from October 1-31, 2013. DaSilva seized and captured the moment interacting with the crowds outside the exhibition creating her own spontaneous light painting. https://www.youtube.com/watch?v=4jGFU8FGs2o
Cheryl Hazan Gallery Director John Haas says, "Vicki DaSilva is the artist making great art with light painting photography. She not only is a pioneer of the medium, she has pushed the medium single-handedly throughout her career as it relates to text, intervention and activist art. We are thrilled to be featuring Vicki's dynamic work."
Light graffiti photography artist and light painting pioneer DaSilva is excited to return to the exhibition. "I love the energy of Miami Art Basel Week! I will create spontaneous new light painting photos at night in and around various art events from South Beach to Wynwood," stated DaSilva. Her photographs are produced at night, live and on location. Her images are made possible through processes of recording that are unique to photography. The execution time varies in duration from minutes to hours per photograph. On Friday December 5, while the VH1 + Scope Party is rocking, DaSilva will be creating photos in real time on the beach and within the crowds of partygoers of the tented event.
About Vicki DaSilva
DaSilva moved to NYC in 1983 after receiving her BFA from Kutztown University of Pennsylvania where she met and was influenced by Keith Haring, a Kutztown native. DaSilva was heavily influenced by the convergence of street and graffiti art during the birth of hip-hop that created a lasting graffiti love affair with light replacing spray paint. Her exploration of light graffiti and light painting as a multi-disciplinary, time-based art form anchored in the photographic process continues to push boundaries of intervention art.
DaSilva interned and worked as an assistant for several years with video and performance artist Joan Jonas. Through Jonas she was introduced to many artists including Richard Serra, for whom she worked as a personal assistant throughout the 1980s. Her first full-time job in NYC was as photographer Gary Schneider's first darkroom assistant.
In 2012 her light graffiti work, 'Jasmine/Never Sorry (for Ai Weiwei), was chosen from 35,000 entries to be displayed on a dozen billboards in Times Square, for the 'Art Takes Time Square' competition. The work was in tribute to Chinese artist Ai Weiwei and Film Director Alison Klayman's documentary 'Ai Weiwei: Never Sorry'.
Cheryl Hazan Contemporary NYC will feature DaSilva's work in booth #G 0 7 at SCOPE Miami Beach 2014 December 2 thru 7.