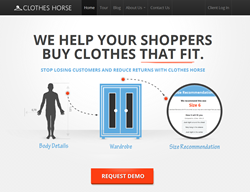 Clothes Horse has a very scalable solution which resonates strongly with our own view of the power of garment sizing data to enhance the consumer's shopping experience
New York, NY; London, UK (PRWEB) December 03, 2014
Virtual fitting room solutions providers Fits.me and Clothes Horse have merged to create the world's largest, fit-focused, virtual fitting room solutions provider.
Clothes Horse, the New York-based fit guidance technology company, supports more than 600 brands for more than 30 clients in North America including Ministry of Supply, Frank & Oak and Gant. London-based Fits.me already operates virtual fitting rooms in the USA for European retailers including HUGO BOSS and Thomas Pink, and for IconStyle [the company behind Tamar Braxton's new tamarcollection.com store].
James B. Gambrell, chief executive officer at Fits.me, said: "Clothes Horse has a very scalable solution which resonates strongly with our own view of the power of garment sizing data to enhance the consumer's shopping experience. Together we will be able to build better, more comprehensive, more sophisticated, more strategic solutions, more quickly and more efficiently; solutions that better meet the needs of shoppers, benefiting retailers and brands.
"Fits.me is already committed to expanding its US capabilities. Clothes Horse will become a wholly owned subsidiary and be the foundation for a more aggressive North American expansion by the combined Fits.me.
"Fits.me is the leading Virtual Fitting Room solutions provider in Europe, and can now make the same claim in North America. The integration of Clothes Horse's founders and key staff also ensures that our current and future North American clients will continue to receive locally the same exceptional level of customer service for which both Fits.me and Clothes Horse are renowned," he said.
"We're excited to join forces with our friends at Fits.me," said Vik Venkatraman, co-founder of Clothes Horse. "By combining the machine-learning and data analytics expertise of Clothes Horse with the fit and visualization expertise at Fits.me, we are able to deliver jointly the broadest range of solutions and capabilities available, anywhere."
Virtual fitting room solutions continue to deliver increasingly more value to shoppers, retailers and brands as consumer awareness and adoption as well as technical capabilities continue to evolve. Fits.me's solutions help overcome the challenges of consumers not being able to physically interact with garments online prior to purchase.